Consumer Credit Up 1% in March, Components Mixed
In March, consumer credit grew by 1.0% on an annualized basis, reports the Federal Reserve. In February, it had declined by 3.0%. For the first quarter of 2010, consumer credit didn't grow much, up by just 0.4%. Yet, compared to March 2009, credit was down 3.4% or $85 billion.
Credit's components break down differently. Non-revolving credit, including loans like those to buy houses and cars, increased by 3.9% in March on an annualized basis, after remaining approximately flat in February. Non-revolving credit was up 4.0% for the quarter, but essentially flat year-over-year.
Meanwhile, revolving credit, which includes credit cards and similar debt, declined an annualized 4.5% in March. For the quarter it was down 6.2%, and compared to a year earlier it was 8.8% lower. March marks the 18th straight monthly decline in revolving credit. It's down 12.3% over that time or $119 billion.
Here's a chart showing how credit has changed since the beginning of the recession in December 2007: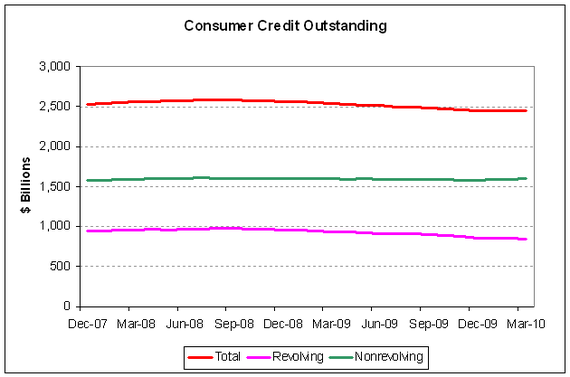 It's pretty easy to see the decline in total and revolving credit. Non-revolving has actually increased a little over this period.
In terms of the holders of credit, it's difficult to see how things changed in March. Financial institutions adopted accounting standard FAS 166/167 this month, which required them to take some securitization debt on balance sheet. As a result, pools of securitized assets plummeted by nearly 70% for the month, but that caused large increases for credit held by commercial banks and finance companies.
Other financial institutions credit holdings declined for March and the first quarter. But the Federal government continued to hold more credit, increasing its holdings at an annualized rate of 31% for the month.
We continue to see a trend of relatively stable non-revolving credit and less revolving credit, which results in less debt overall for consumers. This implies that the spending increase we saw that was mostly responsible for the GDP growth in the first quarter was most likely due to Americans saving less, as anticipated. Incomes haven't grown enough to account for the rise in consumer expenditures.
Note: All data above is seasonally adjusted.