Auto Sales Advance in April
April was a good month to be in the U.S. auto business. The top-seven auto companies all saw increased sales compared to a year ago. For that group, sales were up an aggregate 19%. But not all carmakers did equally well. Here's the scorecard, based on reports from the Wall Street Journal and MarketWatch: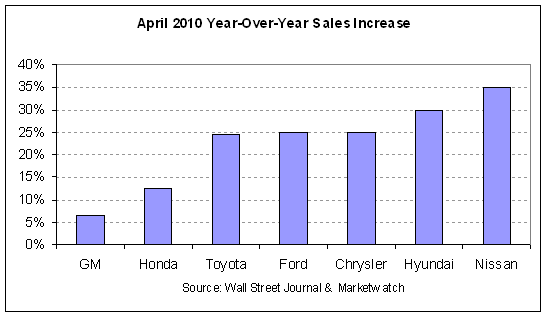 As you can see, GM saw a 6.7% rise, but that's pretty weak compared to its competitors. All others had at least double-digit sales increases. Nissan and Hyundai outshined the others.
Really, this news has to be pretty worrisome to GM. Even though it saw more sales, through a little analysis, you can quickly see that its market share fell. Among those top-seven automakers, 825,528 vehicles were sold in the U.S. Of that total, here's how the market shares changed among these companies year-over-year: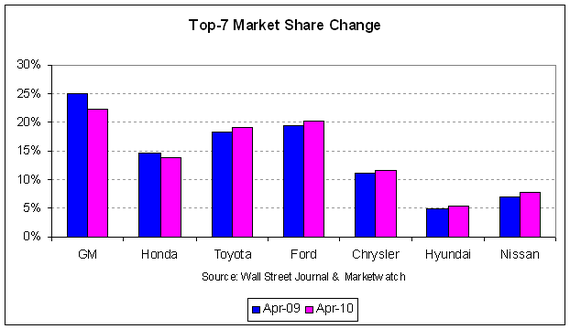 Only GM and Honda saw a drop, with 3% and 1% less of the pool, respectively. Meanwhile, all the others saw a rise in their comparative market shares. Interestingly, even the other bailout recipient -- Chrysler -- did much better, with a 1% rise. So GM can't really blame the bailout stigma. Toyota was plagued by product recalls. Yet its share rose 1% as well. Clearly GM is suffering from a more fundamental problem than just bad press. Americans are increasingly shunning its vehicles for those from other companies.
Honda's relatively weak performance is a bit of an enigma. Since many consumers anticipate better economic prospects than they did a year ago, Honda's smaller increase in sales might be attributed to a flight of consumers to higher-priced brands -- except that Hyundai saw a huge 30% rise. As a result, it's more likely that Hyundai is directly cannibalizing Honda's sales, as the two brands are quickly becoming interchangeable in terms of quality and are both priced at the lower end of the spectrum. Honda might need to differentiate itself better going forward.
This auto sales metric makes for one of the early economic data points for April. Considering that consumer spending only rose by 4% from the first quarter of 2009 to the same period in 2010, the 19% year-over-year rise in auto sales for April is a pretty big jump. Of course, autos are one of those items that tend to suffer during a recession, as their purchase can often be put off. So the sector will likely outperform spending overall. It's still an indication, however, that April spending was likely quite strong.