2009-Vintage Re-Remics Downgraded to Junk
Well this is embarrassing. Remember last year when we learned that the investment banks were using their toxic real estate assets to create fancy securitization products called re-remics? Turns out the new bonds aren't any better than the poisonous ones. Rating agency S&P is downgrading many of them, as some have deteriorated to junk.
In case you forget how re-remics work, here's a diagram from that post back in October, via the WSJ: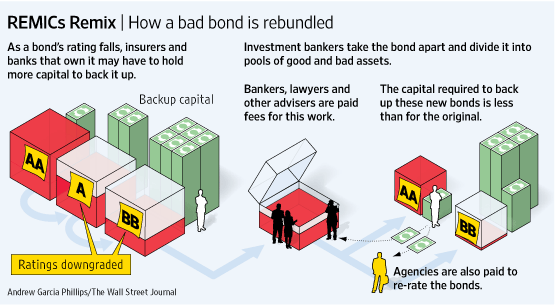 308 classes of re-remics created from 2005 through 2009 were downgraded, according to Bloomberg. Some were issued as recently as last July. You might have thought S&P learned from its mistakes, but apparently not.
This is a pretty awful result for the advocates of real estate securitization. In theory, it should be possible to design a well-performing bond backed by a pool of mortgages that sustains significant losses. It's just unclear why the rating agencies can't get it right. It's one thing to get it wrong during the housing boom. But once they realized their mistakes, how did S&P miss again, so soon? Clearly, its assumptions still aren't conservative enough.
But this news shouldn't be taken as a verdict that condemns securitization. Certainly, there's some amount of credit enhancement -- excess cushion for mortgage losses -- that could prevent senior bonds from taking a hit. Rating agencies just can't seem to get the numbers right. As a result, investors should do their own work to determine more reasonable assumptions.
This news could further delay the return of the mortgage securitization market. Now that the Federal Reserve is done buying mortgage securities, it needs private investors to re-enter the market. Although there were some rumblings last month that the private mortgage-backed-securities were coming back, S&P's continued bumbling could keep investors away. Without their funding, however, mortgage availability will suffer and mortgage interest rates will rise.
(h/t: Felix Salmon)