U.S. Trade Deficit Increases by 7%
The U.S. trade deficit grew by 7%, or $2.8 billion, in February, according to the Bureau of Economic Analysis. The trade deficit, which stood at $39.7 billion for the month, is the measure of how many more goods and services were imported than exported. February's reading was a little higher than economists' forecast of $38.5 billion. While both inflows and outflows of goods and services increased, imports grew a marginal $0.3 billion while exports rose by $3.0 billion. This data says a few things about the economic recovery in the U.S.
First, some may find troubling that the $3 billion increase in imports wasn't for goods and services produced in the U.S. Any import growth wastes consumer demand that could be stimulating the U.S. economy, instead of those abroad. February's $183 billion in imports would have gone a long way in improving the health of American companies if spent on domestic products.
Second, anyone who believes that exports are the answer to how the U.S. will experience a strong recovery may want to rethink that theory. In 2010, exports have so far been essentially flat. The following chart demonstrates this point: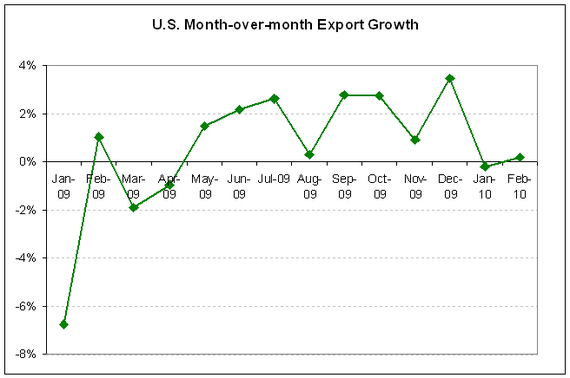 Although there were some decent gains in exports in the last three quarters of 2009, so far 2010 isn't continuing that growth. It should also be noted that all of these statistics are seasonally adjusted, so the time of year shouldn't be a big factor.
If this trend continues -- imports increasing while exports remain flat -- then that could limit the steepness of the economic recovery in the U.S. If more consumer spending is increasingly benefiting firms abroad, growth for U.S. companies will be smaller than it would have been if that additional spending was on domestic goods and services instead. And U.S. firms aren't making up that ground through their exports so far in 2010.
(Nav Image Credit: tinkerbrad/flickr)