U.S. Retail Sales Up 1.6% in March
U.S. Retail sales increased in March by 1.6% over February and 7.6% from a year earlier on  a seasonally-adjusted basis, according to the Commerce Department. Sales also beat consensus estimates, which predicted a month-over-month rise of 1.3%. Optimism about retail sales in March had been driving Wall Street's rally, so this news must come as an even more pleasant surprise to stock traders. Today's data paints a hopeful picture about consumer sentiment.
The March report shows sales increased almost across-the-board. Here are some major components and their month-over-month rise: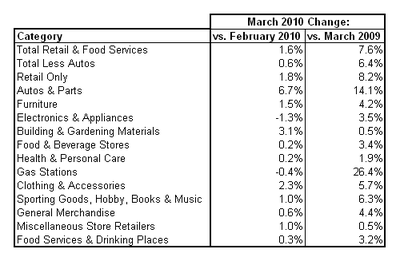 As you can see, only electronics and gas stations saw a decline in sales versus February. That latter group could be mostly due to gasoline prices declining in March by 1%, which could allow for flat or increasing gallons sold but result in a decline in gross sales. Auto and parts sales were up significantly, 6.7%. In fact, they accounted for 1% of the month's increase.
One notable rise was with sales of building materials. The 3.1% increase could indicate that construction and home improvement are gaining their footing. If so, this would be very good news to an industry that has lost 2.1 million jobs since the height of the housing boom.
That chart also shows the dramatic increase in sales from a year earlier. All categories are up, most by more than 2%. The largest increase was gas sales, which were up 26.4%, but that could be mostly due to the price of gasoline increasing by 41% over the same period. The second most impressive category was autos and parts, which saw a 14% rise. Interestingly, building looks less impressive over the longer time horizon, coming in with a slight 0.5% increase.
The following chart also demonstrates how sales have changed since the recession began in December 2007: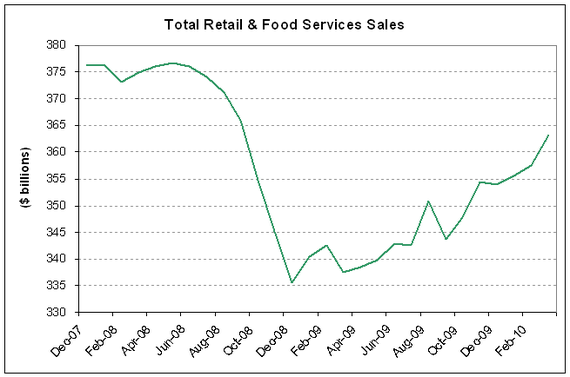 This shows that sales fell a very long way during the recession. They still have a ways to go before they rise to pre-2008 levels. Still, the past year has clearly been a time of improving consumer sentiment.