U.S. Labor Market Grew By 162,000 Jobs in March
In March, the U.S. labor market finally saw some tangible job growth, with 162,000 new jobs (seasonally adjusted), according to the Bureau of Labor Statistics. That's the highest number of new jobs for a month in three years. This wasn't enough to raise the unemployment rate, however, which remained steady at January and February's rate of 9.7%. While great news, the job growth was weaker than consensus expectations, which predicted 190,000 more jobs.
Revisions are also good news. January's jobs change switched from a loss of 26,000 to a gain of 14,000. February's improved a bit as well from 36,000 estimated lost to just 14,000. So March's six-digit job growth was still a significant reversal from February's revised loss of 14,000. The number of unemployed Americans actually rose slightly, however, to 15.0 million from 14.9 million.
Let's start with the number of jobs lost/gained over the past two years: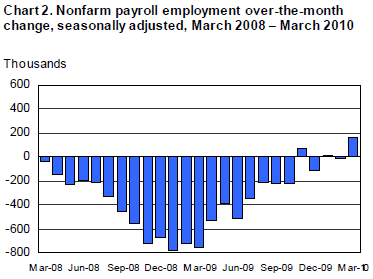 And here's how the rate has changed:
That first chart shows just how significant the reversal in March was. This is the legitimate job growth economists have been waiting to see.
Scrolling through the report's B-1 table industry detail, it's clear that most sectors did well in March. Some of the shining industries continue to be the same, which include temporary workers, health care and education. Here are some highlights: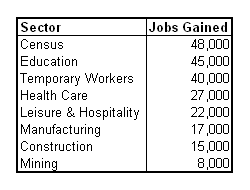 That first row shows new short-term federal government jobs due to the census. The chart also indicates some even industries that haven't done well during the recession grew in March, including construction, manufacturing and hospitality. Some of the less fortunate industries included financial services with 21,000 fewer workers and information with 12,000 jobs lost.
For some more good news, March saw a large drop of 210,000 discouraged workers: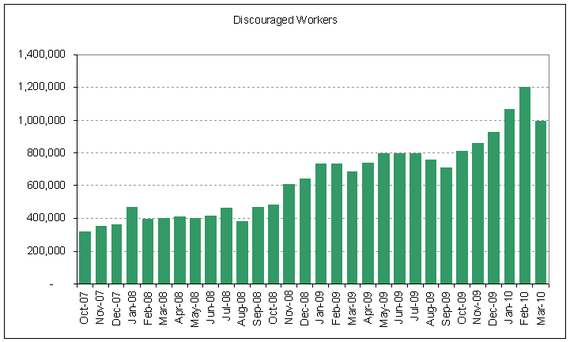 That's a whopping 17% decline. This change in discouraged workers makes the rate of 9.7% look even better, because the total labor force statistic used to calculate it includes more Americans.
So why didn't the rate change even though the economy saw more workers? Because it didn't keep up with seasonal expectations. You can see this through the seasonably unadjusted unemployment rate declining from 10.4 to 10.2. Here's the chart: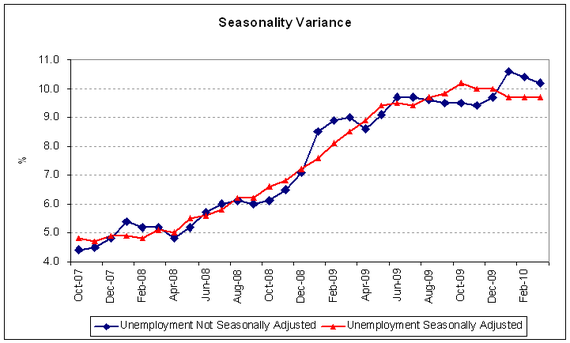 These lines should collide in April or shortly thereafter. If this trend continues, then the unadjusted rate will fall to meet the adjusted rate, which is certainly better than the alternative.
One of the few kernels of bad news was the number of long-term unemployed. They increased by 414,000 Americans. But meanwhile shorter durations declined: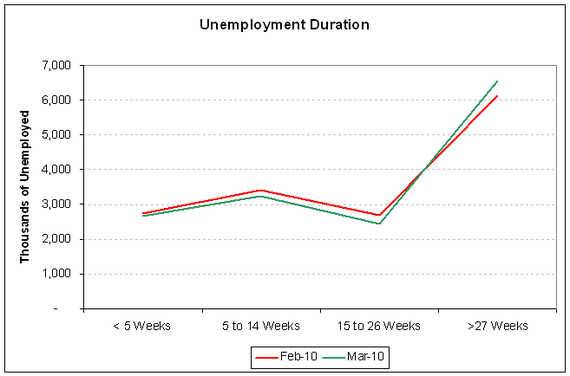 It's troubling that those unemployed for the longest don't appear to be finding jobs.
The broadest measure of unemployment is also one of the few negative signs. The "U-6" measure, which includes unemployed, discouraged, marginally attached and those working part-time due to job market problems increased from 16.8% to 16.9%, seasonally adjusted. This statistic shows underemployed Americans. It's disappointing that this number is getting worse instead of better.
In general, however, this month's report indicates that the job market is definitely on the right path. March exhibited the most significant job growth the U.S. has seen since the same month in 2007. If this trend continues, then the unemployment rate should begin declining. Of course, the labor market needs more than just 162,000 jobs per month to make significant progress eating into the number of 15 million unemployed Americans.
Finally, readers who took yesterday's unemployment poll did better than last month, when just 9% got the right rate. This time, 26% correctly predicted 9.7%. Well done! Here are those full results:
(Nav Image Credit: Seansie/flickr)