U.S. Economy Grew at a 3.2% Pace in First Quarter
The U.S. economy continued to strengthen in the first quarter of 2010, growing at an annualized pace of 3.2%, according to the Bureau of Economic Analysis. This matched economists' expectations for real gross domestic product (GDP) growth. The data continues to indicate that the U.S. is in recovery. In particular, the changes in the various contributions to growth make clear that the U.S. economy appears to be on the right track.
First, here's how GDP growth has looked for the last 16 quarters: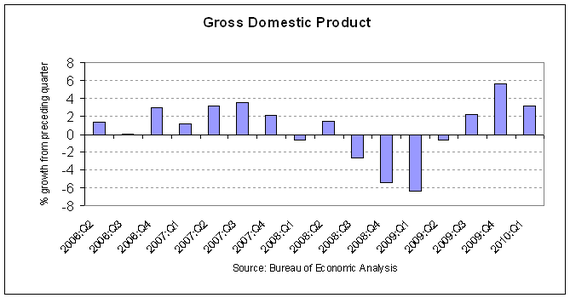 The American Consumer is Back
3.2% isn't as aggressive growth as we saw in the fourth quarter of 2010, when the economy grew at a 5.6% pace. But at that time, economic activity was mostly driven by companies ramping up their inventories -- rather than the American consumer picking up the slack. That changed in the first part of 2010. In Q4, consumer spending only made up 1.2% of the 5.6% growth rate. In Q1, it made up 2.6% of the 3.2%. To put that in perspective, in the final quarter of 2009 consumer spending accounted for only 21% of GDP growth, but in the first quarter of 2010 it accounted for 80%. Since consumers are traditionally responsible for around 70% of GDP, this is an important shift.
The kind of consumer spending that drove the rise in GDP is also encouraging. Some purchases that get cut back on during hard times saw stronger sales, like clothing. In particular, services made up a much larger portion of GDP growth last quarter than in the previous, adding 1.2% compared to just 0.5%. That was due to factors including more restaurant dining and recreation.
Business is Good
Since ramping up inventories played such a major role in growth for Q4, it's only natural that they would play a less significant role in Q1. But businesses did continue adding to inventories to respond to renewed consumer demand -- just not as aggressively. They accounted for 1.6% of GDP growth, compared to a 3.8% contribution the quarter prior.
Interestingly, business investment actually decreased for structures, which may imply that commercial real estate inventory has caused a decline in business expansion-driven construction. All other metrics for business investment rose, however. Equipment and computer software investment continued to be a standout, adding 0.8% to GDP growth.
Net Exports Worsen
The import-export news was mixed. Although the U.S. economy benefitted from additional goods and services being sold overseas, more imports overshadowed the increase. As a result, a net exports actually brought down GDP growth by 0.6%. This contrasts with Q4, when net exports resulted in a 0.3% positive contribution. U.S. consumer and business demand is benefiting global businesses as well as those at home.
Less Government
Finally, government spending had a smaller contribution to economic growth in the first quarter. This is also a good sign, as private enterprise overshadowing government is exactly the kind of trend that indicates real recovery. Government spending actually brought down GDP growth by 0.4%, since there was less of it. That was driven mostly by states spending 4% less. Federal government spending, however, actually increased by a little.
Overall, today's report is very encouraging. It's clear that American consumers are opening their wallets again, and even spending on non-necessity items. Business also continued to flourish last quarter, adding to equipment and inventory. Finally, government is generally pulling back its influence, with private growth vastly taking up the slack. The most significant discouraging news from this report is net exports, which isn't particularly surprising, since American consumers have long exhibited a strong demand for goods and services from overseas. Of course, we should bear in mind that this is just a first estimate and will be revised twice. Last quarter, however, the revisions turned out to be insignificant.
While today's news provides reason for optimism, challenges still remain for this recovery, particularly in the labor market. For this growth rate to be sustainable, underemployment needs to come down significantly and income growth needs to improve. As businesses growth healthier, those changes should follow -- it's just a question of how quickly.
Note: All statistics are seasonally adjusted.
(Nav Image Credit: tinkerbrad/flickr)