Treasury's March HAMP Report Shows Little Additional Progress
The Treasury released (.pdf) its March update for its Making Home Affordable Program (HAMP), which seeks to prevent foreclosures. The progress continues to be slow. It offered an additional 57,337 trial modifications and 60,594 more permanent modifications. Those numbers indicate a slight decline in trials and small increase in permanents. The report also includes some troubling data on modification failures.
Here's a chart showing the progress: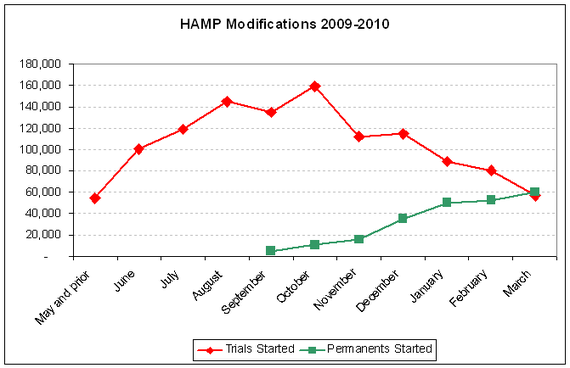 Trial modifications continue to steadily decline. Although permanent modifications experienced a modest increase, this number may have trouble growing as new trials continue to slow.
The report contained some other interesting data as well this month.
First, it appears that the new principal reduction push announced in March hasn't had much effect yet. In fact, the number of mortgage modifications that utilized principal forbearance actually declined from 27.8% to 27.6% from February to March.
Next, the increase in failed modifications is worrying. There were 88,863 cancelled trial modifications through February. That shot up to 155,173 in March -- an increase of 75%. March's 66,310 trial modifications cancelled essentially erase all of the month's 57,337 new trials offered, resulting in a net negative number of trials for the month with 8,973 fewer. The large number of cancellations also shows that more trials failed (66,310) than were made permanent during the month (60,594), with a net failure rate of about 5,716. Permanent modifications were also plagued by more cancellations. 1,499 permanent modifications cancellations were reported through February. The number rose to 2,879 in March. That's an increase of 92%.
Finally, it doesn't appear the Treasury changed the report very much in response to the Special Inspector General of the Troubled Asset Relief Program's scathing report. One major concern was its performance metrics, particularly noting that the Treasury measured its success by modifications offered instead of modifications made permanent. Rather than eliminate this metric, the Treasury just shifted it from page four to page six of the report, without replacing it with a better measure of success.