Not a Jobless Recovery, But a Jobloss Recovery
Experts believe the economy moved from negative to positive growth in June 2009. That puts the recovery around 9 months old. But instead of acting like a 9-month old recovery, it's behaving more like a 9-month old baby: crawling slowly and occasionally falling over things rather than standing up and moving forward on solid footing.
As any parent knows, each 9-month old is very special. But America's 9-month old is very special for all the wrong reasons. The Economist's Ryan Avent puts together this excellent graph to explain just how uniquely sour the recovery has been in the labor market:
Since [June 2009] the American economy has seen a net deterioration in employment by about 900,000 workers. The performance is by far the worst nine-month stretch following a recession of any post-war downturn (see chart). The last time the American unemployment rate rose above 10%, during the recession of 1981-82, the economy added between 1m and 2.5m jobs in the first nine months of recovery.
Journalists often refer to the aftermaths of 1991 and 2001 as jobless recoveries. That is, the economy grew and jobs didn't follow. What we're seeing now is something different. Its a jobloss recovery. The economy grew, and jobs continued to fall off dramatically. March was the best month for jobs in three years and it didn't make a dent in the official employment rate.
Avent's graph is remarkable, but it makes it look like the 2009 post-recovery job turn around has been strikingly different than the 1991 and 2001 recoveries, when in fact we seem to be following the same long U-shaped recovery we experienced after last two recessions. It's valuable to see the graph above in its broader context of total jobs lost since the recession began, and not just when it ended. We came into the economic recovery with such negative momentum that it was inevitable that jobs continued to shed after June 2009 (Source: Calculated Risk).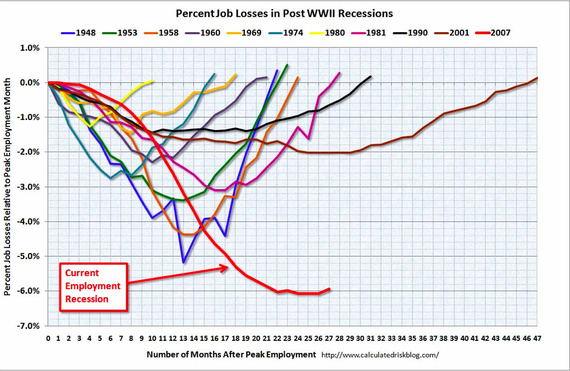 Finally, it's worth remembering the reasons we shouldn't expect a sharp up-turn in that "U": historically short work-weeks and high part-time positions suggest employers will respond to demand increases by adding work hours to the week and to contingent workers' schedules. If that happens, it will have no short-term impact on the officially unemployed.