New Home Sales Soar, Up 27% in March
In context, however, last month's numbers weren't that impressive -- and will likely decline after the home buyer credit expires in April.
Purchases of new homes surged in March to an annualized rate of 411,000, an increase of 27% over February, according to the U.S. Census Bureau. That's the fastest growth of new home sales since April 1963. While selling additional new home is an indication that consumers are feeling more bullish about the housing market, today's news should be taken in context.
This news isn't particularly shocking for those who follow the housing market, considering that pending home sales increased significantly in February. New home sales rising also complements yesterday's news that the sales of existing homes increased in March. The home buyer credit, set to expire in April, was described as mostly responsible for that news. There's little doubt that the credit also drove new home sales to increase so much last month.
It is a little shocking that home buyers aren't more interested in looking for deals on foreclosures or short sales, however. Foreclosures hit a new high in March, so there are plenty of steals be had for bargain hunters. Yet, many Americans chose to buy new homes instead.
March's 411,000 annualized home sales were quite good compared to the prior month's 324,000. But after a four-month decline, February had the fewest new home sales on record -- since at least January 1963. So even relatively few sales in March would have had trouble falling below February's level. In fact, the historical numbers show how weak March's new home sales actually were: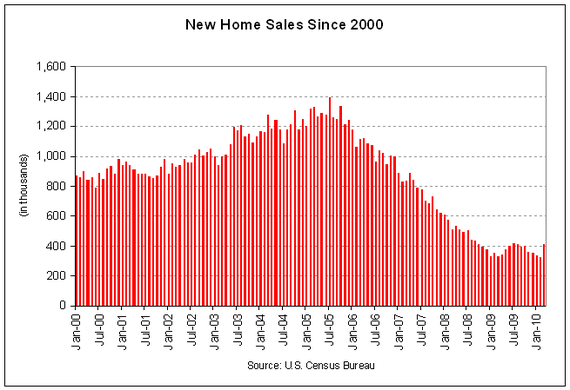 New home sales peaked at a rate of 1.39 million in mid-2005. Last month's numbers would have to double to get back to the pre-housing bubble levels in the 800,000's. You only have to look back to July 2009 to see a higher number than in March.
Last month's increased sales also didn't do much to help lower the inventory of new homes for sale. It dropped a measly 2,000 homes from 229,000 to 227,000. That means builders are keeping up with the demand for new houses.
While additional new construction is good news for jobs, it might not help the housing market's price stability. As mentioned, foreclosures are still extremely high. Consequently, there is a substantial inventory of existing homes, which has increased by 9% over the past two months. The market would be better served to sell off more of the existing home inventory before ramping up the building of new houses. Then, construction jobs could still be created through renovation projects. Price stability will be hard to attain as long as overall inventory is increasing.
This recent surge in new home sales is likely fleeting. Its driving force -- the home buyer credit -- will be gone at the end of April. So we can expect to see strong sales of new homes again this month, but fewer come summer. If construction doesn't slow down accordingly, then the inventory of new homes will begin growing.
Note: All statistics above are seasonally adjusted.
(Nav Image Credit: Jerome/flickr)