Mother of All Jobless Recoveries, Continued
There is considerable evidence that the economy is steadily recovering and that the odds of a double-dip recession have shrunk to practically zilch. Unfortunately there is also considerable evidence that the recovery will not have the firepower to dramatically shrink unemployment to its pre-recession levels for years. Besides the sheer size of our unemployed ranks (27 million Americans are considered un- or under-employed today) there are at least three underlying reasons to believe in a jobless recovery:
1) Job openings are still in the doldrums -- February 2010 job openings were practically equivalent to their February 2009 levels of 2.7 million.
2) Part-timers grew in the latest jobs report (although discouraged workers fell, meaning more Americans are feeling confident at least about entering the job market) and the work week at 33.9 hours/per is still near its all-time low of 33.0. That means that when demand starts coming back, employers will have a lot of slack to extend the work week and hire part-timers rather than dip into the ranks of the officially unemployed -- that 9.7% figure the media focuses on.
3) The ratio of unemployed-to-new hires, a good indicator for strife in the job market, ticked up in February and is hovering around its April 2009 levels. Its three-month moving average is heading in a positive direction, but slowly.
And then this. According to the Business Roundtable's CEO Survey, 75% of executives expect sales to rise in the next six months, but hiring is a different story. In the coming months, half of employers expect no change in employment, 29% expect to hire and 21% expect to shrink payrolls. Employment is a lagging indicator of the economy's strength, because employers won't hire en masse until they actually experience (as opposed to project) sustained sales increases that grow capital they can invest in compensating new workers. But this survey suggests that while employers can spot glimmers of demand's recovery, they aren't any more ready to expand payrolls than they were some months ago.
Some graphs from the Bureau of Labor Statistics help tell this two-part story:
1) Employers are not firing...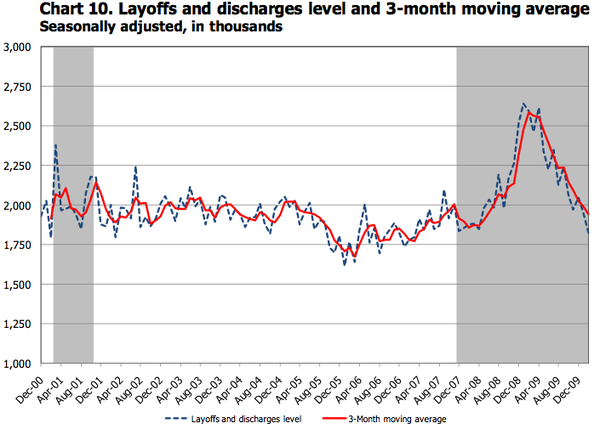 2) But they're also not hiring.