It's easy to get sidetracked over the 47% of Americans who don't pay taxes. Don't lose sight of the bigger picture. When that 47% figure gets chucked into the dustbin of cable news statistics, we will be back to the old familiar debate about taxes. Conservatives will complain the wealthy pay an ever-higher share of taxes. Liberals will complain that the wealthy pay taxes at ever-lower rates.
Both sides are right. The top 10 percent of earners pay a higher percent of the government's taxes than any time in the last 30 years, but at historically low tax rates. This is possible for one, simple reason: rich people are making more money. Much more money. In fact, in 2007 the top one percent of Americans held its highest share of income than at any time since 1928.
Total federal tax rates (including income taxes, capital gains taxes, payroll taxes, estate taxes, and corporate income taxes) have fallen dramatically for the rich and remained flat for low- and middle-income earners in the last 50 years (via NYT).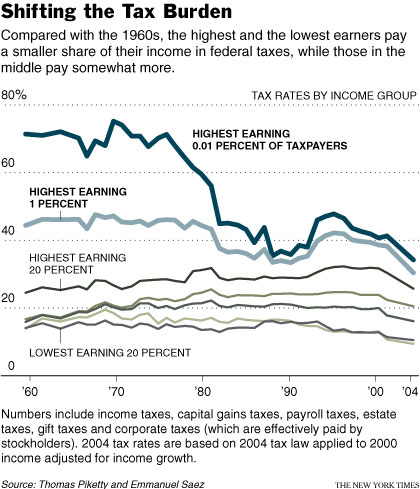 In the last 40 years, the top 10 percent's tax rates went down, but their tax burden went up, because their household income grew faster than the rest of the country. To get a better sense of how taxes have changed since 1979, let's look at tax rates (the percentage of your income you give the government based on your tax bracket), tax share (the percentage of total taxes that each income bracket pays) and share of total income (the percentage of total US income earned by households in each bracket).*