Foreclosures Hit New High in March, Up 19%
Foreclosures soared to 367,056 in March, up 19% from February and 8% higher than March 2009, according to foreclosure data specialist RealtyTrac. That's the highest level the firm has seen since it began issuing foreclosure reports in 2005. This is a jarring verdict for the U.S. housing market's supposed recovery. Until March, foreclosures had increased in only one of the prior seven months.
For a visual of how bad this month was compared to those for the past two years, check out the following chart: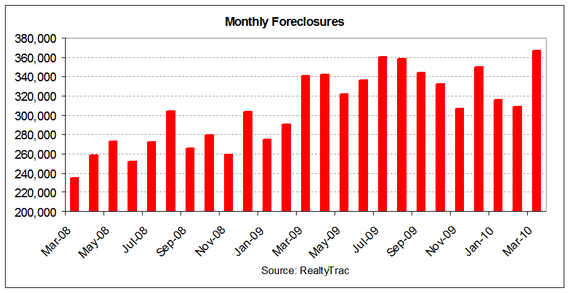 RealtyTrac also documents state-by-state foreclosures. Here were the ten worst by foreclosures per housing unit: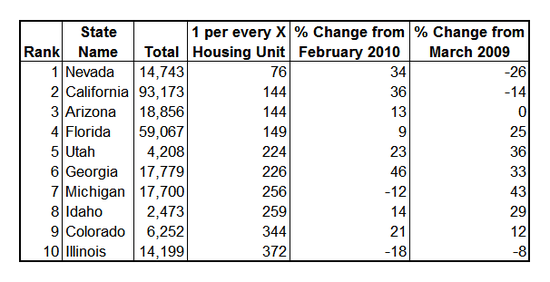 As you can see, all but two in this list had more foreclosures in March than February. Some had drastically more, including Georgia up 46%, California up 36% and Nevada up 34%. Nevada continued to be the state with the most troubled housing market last month. In March, one in every 76 housing units in Nevada received a foreclosure filing. California also had a particularly poor month, with its rank rising from fourth worst in February to second worst last month. The top 10 states accounted for more than two-thirds of all foreclosures in March.
RealtyTrac's March report also includes some analysis on 2010's first-quarter. It isn't pretty. During the quarter 932,234 properties received foreclosure filings. That's a 7% increase from the fourth quarter of 2008 and 16% higher than the first quarter of 2009. One in every 138 U.S. housing units filed for foreclosure in the first quarter of this year.
State-level data for the quarter is also troubling. Again, Nevada was the worst by foreclosure density with one foreclosure for every 33 housing units. Arizona and Florida followed with one foreclosure for every 49 and 57 housing units, respectively. California had the largest in number with 216,263.
It's pretty hard to glean anything positive from today's report, but RealtyTrac CEO James Saccacio does so in a roundabout way. He notes that increases in foreclosure activity were skewed towards the final stage of foreclosures, with real estate owned (REO) foreclosures increasing 9% for the quarter. From this, he concludes:
This subtle shift in the numbers pushed REOs to the highest quarterly total we've ever seen in our report and may be further evidence that lenders are starting to make a dent in the backlog of distressed inventory that has built up over the last year as foreclosure prevention programs and processing delays slowed down the normal foreclosure time line.
This is good for two reasons. First, delays are shorter. That should allow the housing market hit a bottom sooner, so that the economy can move forward with greater confidence. Second, the month's high number of REOs ate into some of the shadow foreclosure inventory, an uncertainty that threatens to undermine the economic recovery. If Saccacio is right, then high levels of foreclosure activity should continue for several months until that backlog is cleared, but then drop to a lower "normal" as the rate of new foreclosures slowly declines.
(Nav Image Credit: morisius cosmonaut/flickr)