Fannie: Home Buying Credit Failed
That, combined with weak demand and lots of foreclosures, has caused the GSE to significantly reduce its estimate of home sales growth for 2010.
The government's attempt to boost home purchases through a broadened tax credit hasn't worked, according to Fannie Mae. In a new report (.pdf), the government-sponsored enterprise says that the housing rebound has been choppy and revised its projection of home sales growth for 2010 downward to 6% from the 9% forecast just last month. Fannie worries that home sales inventory is shrinking too slowly for a strong recovery to take hold.
Here's a graph the company provides to demonstrate the government credit's lackluster performance: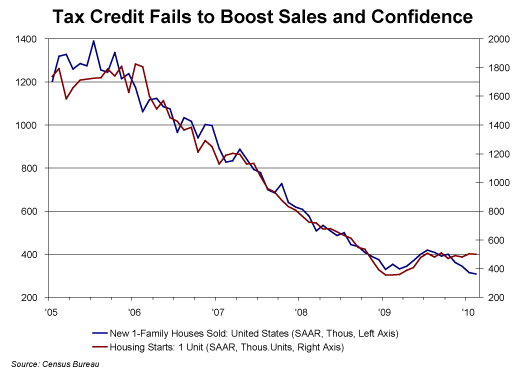 The report explains:
Despite the looming deadline of the second tax credit, which requires a signed contract by April 30 and settlement by June 30, builders saw no rush in new home buying. Both components gauging current sales conditions and traffic of prospective buyers fell. The component gauging sales expectations in the next six months also declined, which was to be expected given that the tax credit is scheduled to expire soon. Builders cited the lack of available credit for new projects, tough competition from the continual flow of distressed properties for sale, in some cases below production cost, and concerns over job security as factors weighing on confidence.
Fannie's 2010 home sales growth revision from 6% to 9% is also quite significant. It essentially cuts the number of additional sales expected compared to 2009 by 50%. That's a major change. From the narrative above, it sounds like economists underestimated foreclosures and credit difficulties that would persist in 2010, while overestimating the power of the credit.
So that big bump in home sales expected for March and April may not come to be. The home credit is having a weaker impact than anticipated. Fannie says even though homebuilding has been weak since the housing bubble burst, it needs to be even slower to allow the housing inventory to begin to decline to normal levels again. If foreclosures continue to break records as they did in March, then that also won't help matters.
The report makes pretty clear that the housing recovery will be a slow one.