Existing Home Sales Up 6.8% in March, Propelled by Buyer Credit
The good news: after declining for three months, existing home sales rose in March. The bad news: the home buyer credit has had a much weaker influence this spring than it did last fall when it was facing expiration.
Existing home sales were an annualized 5.35 million in March on a seasonally adjusted basis, according to the National Association of Realtors (NAR). That's up by 340,000 from February, an increase of 6.8%. NAR's chief economist Lawrence Yun says that the rise is mostly due to the home buyer credit, set to expire at the end of April. It hadn't done much over the past few months, however, as sales had been declining. But with consumers anticipating the credit's expiration, buying ramped up.
Here's a chart showing home sales since September 2008: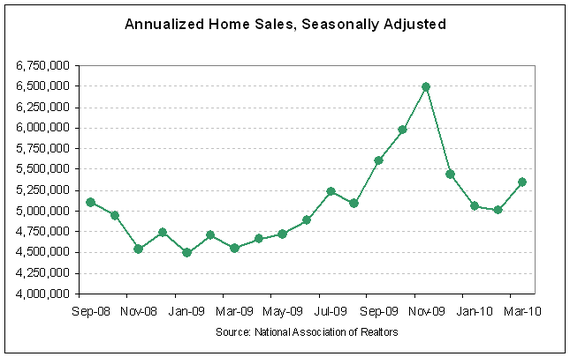 As you can see, March saw a healthy increase, but home sales are still lagging below December's level of 5.44 million.
This begins to show that the credit, while likely increasing home sales, wasn't nearly as successful this time around as it was last fall. At that time, it was set to expire in November. Interestingly, a month prior -- in October -- there was also an identical 6.8% month-over-month rise in home sales. Yet, the activity leading up to October was much more impressive. The following chart demonstrates this point: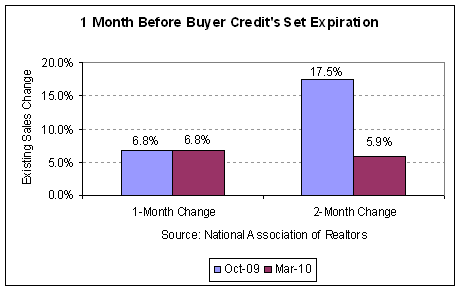 As you can see, the 2-month change the month prior to the credit's expiration was vastly more in the fall than it's been this spring. October also had 630,000 more homes sold than March.
This is a little bit surprising. When the credit was renewed last November, it was also broadened to apply to all home buyers -- not just first-time buyers. That should have encouraged even more sales, as it opened the credit up to a vastly larger universe of potential consumers. Yet the sales have actually been weaker. This could indicate that home buying demand is feeling some fatigue. While sales may rise again in April as a response to the credit, after that time, they may very well sag to annualized levels below 500,000.
The median price of an existing home also increased in March to $170,700 from $164,600 in February. That breaks a two-month trend of price declines. March's price was nearly flat to that a year earlier of $170,000.
Home inventory level appears to be forming a worrying trend, however. It has been increasing for the past two months, after declining for six straight months through January. In March it increased by 1.5% to 3.6 million. This could have something to do with increasing foreclosures. Here's how inventory looks since the start of 2009: