Consumer Sentiment Still Low, but Improving
A new Gallup Poll reveals Americans aren't pleased with their financial situation but see things getting better.
Americans are still feeling pretty down about their financial situation, but their sentiment is improving, according to a new Gallup poll. The survey found that 41% describe their personal financial situation as excellent or good -- the lowest Gallup has measured in the past decade. But separately, the pollster also found increasing optimism.
Here's a chart Gallup provides to show that latter trend: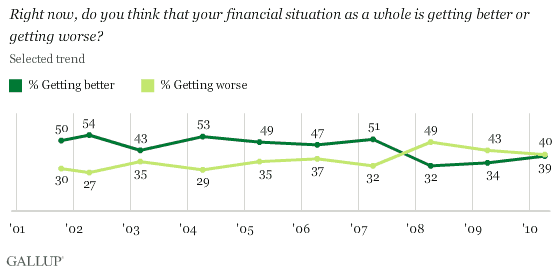 As you can see, optimism and pessimism have met for the first time since late 2007 -- just before the start of the recession. This is an indication that the recovery has likely begun in the minds of consumers. Yet, the previous statistic -- that showing Americans' comfort with their financial situation at a decade low -- indicates a strong recovery might be unlikely. Optimism is helpful, but can be choked by troubled personal finances. If consumers don't have money to spend, then all the positive sentiment in the world won't do much to revitalize the economy.
Gallup also grouped the results by income level:

Those top two rows are completely unsurprising. If you make more money, you feel better about your finances.
But the bottom two rows are interesting. They show more middle- and upper-class Americans feel their situations are getting better than those who believe things are getting worse. Respondents with lower incomes, however, have a much different view. There, only a tiny 30% see reason for optimism, while nearly 50% are pessimistic. These statistics lead to the troubling conclusion that the recession has been much harder on poorer Americans, and they anticipate that their suffering will be prolonged.
Fascinatingly enough, perception must affect sentiment nearly as much as reality. Another grouping shows the poll results by political party: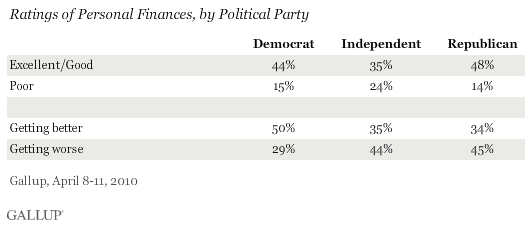 While Democrats and Republicans have pretty similar feelings of how their finances are doing, they vary greatly their views of where the economy is headed. Democrats -- who have their President in office and strong majorities in both houses of Congress -- overwhelmingly think things are getting better versus getting worse. For Republicans, the result is flipped. But Independents appear to agree with Republicans, which probably isn't good news for Democrats in midterm elections this November. If they believe Washington isn't improving their financial situations, they'll be less likely to vote for the majority's candidates.
A separate poll from Rasmussen, also released yesterday, implies that Americans are pretty cynical when it comes to how much positive change politicians can bring to the economy anyway, however. Just 32% of respondents were at least somewhat confident that policymakers know what they're doing when addressing the current economic problems on Wall Street. That's down from 36% a year ago.