Consumer Price Index Rises 0.1% in March
The Consumer Price Index (CPI) rose just 0.1% in March on a seasonally adjusted basis, according to the Bureau of Labor Statistics. That matched consensus expectations and continues the trend of very low inflation. CPI was flat in February. Today's data reiterates the narrative that inflation is not much of a concern at this time.
First, here's a chart showing CPI over the past year:

As you can see, it has been quite low for some time and has been still lower over the past few months.
To accentuate that point, the so-called "core" inflation -- that which excludes food and energy -- was flat in March. That's even less than February's tiny 0.1% increase (revised up from a 0.1% decline). Runaway core CPI is generally what can drive economists' views on whether inflation is a concern.
The following chart demonstrates just how low core inflation has been since the start of the recession, utilizing a 3-month average to smooth the bumps and better show trends: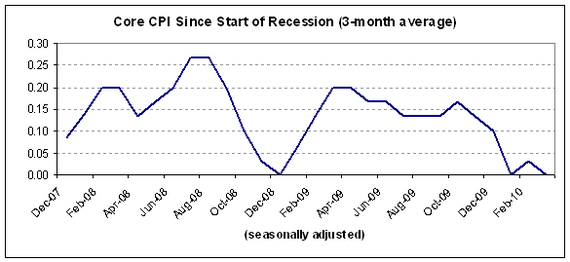 Note that the vertical axis has very low numbers. Core CPI barely even peaked above 0.25% during this time. Since the start of 2010, it has been extremely low.
This month, food and energy didn't have much effect on broader CPI, since food prices increased by only 0.2% while energy prices were flat. The only major component with a price level that ticked above 1% this month was electricity, which rose by 2.1% month-over-month. The biggest price decline was from gasoline, which dropped 1%.
In a longer-term context, CPI's 12-month change tells mostly the same story. It has been very stable recently hovering in the 2% range. Core CPI appears to be forming a downward trend in 2010, now approaching 1%: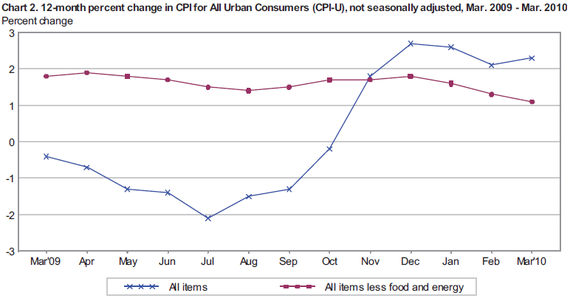 Very low inflation and virtually non-existent core inflation suggests most Federal Reserve bankers and other policymakers probably won't view inflation as a short-term concern. As Fed Chairman Ben Bernanke provides Congress with an economic outlook this morning, he will likely use the data showing very low inflation to reiterate his view that the central bank can safely leave interest rates low for an extended period. With other economic concerns like high unemployment and a struggling real estate market still worrying, inflation this low doesn't warrant monetary tightening in the near-term.