Consumer Confidence Jumps in April
The Conference Board says that its Consumer Confidence Index increased in April to 57.9 from 52.3 in March. That soundly beat consensus expectations of 53.5. Since February, the index has risen 11.5 points. Consumers are definitely feeling more confident about the U.S. economy.
Here's the Conference Board's tiny graph for Consumer Confidence: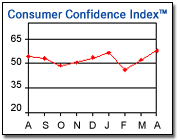 According to the report, March's point marks a high not seen since September 2008 -- before the financial crisis hit its climax. This measure matters because it reflects Americans' views of both business and labor market conditions. The latter still troubles many, since underemployment was around 17% in March. On average, however, even labor market sentiment must be improving according to the Conference Board's data point for April.
This consumer confidence reading also contradicts a report from a Reuters/University of Michigan poll conducted earlier in April, which appeared to indicate that sentiment was worsening. If the Conference Board is right, then that's good news for the recovery. In order for the economy to continue growing, Americans need to spend and invest.
The Conference Board's sentiment measures experienced significant gains across-the-board. In addition to consumer confidence, its Present Situation Index increased to 28.6 from 25.2. Its Expectations Index also rose to 77.4 from 70.4. Again, this implies that Americans are doing better presently and foresee a brighter economic future than the recent past.
(Nav Image Credit: richkidsunite/flickr)