Buyer Credit Drives February's 8.2% Rise in Pending Home Sales
More Americans signed contracts to buy homes in February, as the National Association of Realtors Pending Home Sales Index rose by an impressive 8.2%. That brings the index to 97.6, just below where it stood in December at 97.8. What's caused February's steep rise?
According to NAR, the home buyer credit's April 30th expiration is a big part of the cause. Pending home sales are forward-looking. These sales haven't actually been completed yet but signal more buyers in the market deciding to make a purchase. That's why February home sales were quite weak, but pending sales were much stronger.
So what you're likely seeing here is future demand being pulled forward by the credit, which is set to expire in November. To try to determine how much of the credit has to do with it, let's look at what happened last fall. Here's what the index looks like since December 2008: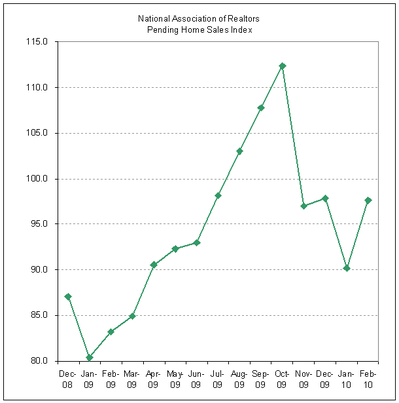 As you can see, there was a steady rise until November, when it plummeted a drastic 14%. It ticked up slightly in December, but then fell again in January. The net result over that three month span was a decline of 20%. Here's a graph looking at month-over-month change: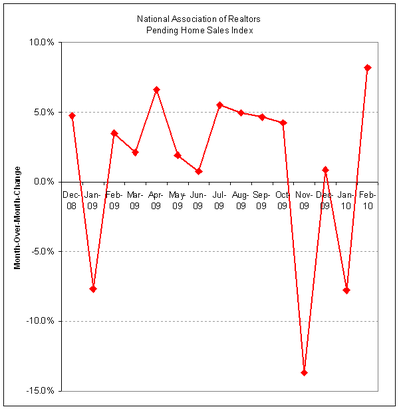 What we're seeing in February should look somewhat similar to what we saw in September, as each month was two prior to the credit's set expiration. Let's consider the two charts together. In September, home sales rose by 4.6% -- much lower than February's big 8.2% gain. That could have something to do with how much higher the index was in August than January, 103 vs. 97.6. In February home buyers had much more ground to make up after that big 20% decline from the prior 3 month period.
The difference in the details of the home buying credit could also explain February's giant increase. Prior to November, it only applied to first time buyers. The renewal, however, extended that and created a new, smaller credit for existing homeowners. So the pool of people who can now take advantage of the credit is much larger. Consequently, it makes sense that the demand it pulls forward would be even greater.
Like last fall, pending home sales will likely continue to rise in the months leading up to the credit's expiration. So expect to see big numbers again in March and April. (November's fell by so much in part because the credit was extended early in the month, so there was no longer any urgency to purchase a home for much of the month.) But if the rise is greater than it was last fall, expect to see an even deeper dive than from November through January. With both new and existing home buyers rushing to purchase through April, little demand will likely be left over for the remainder of 2010, unless the housing market's recovery is steeper than expected.
(Nav Image Credit: edkohler/flickr)