Forty-five percent of Americans think their taxes are "about right." according to a new Gallup Poll. An even higher number 62% think that their level of income tax is "fair" according to a New York Times poll, also released today. The difference between 45% and 62% is large, and indicative of why policy makers shouldn't try to divine marginal tax rates from polling data, exclusively.
It's also interesting to see how falling negativity toward the federal income tax aligns with falling effective income tax rates. Compare the following two graphs, via Economix and the Center on Budget and Policy Priorities:
1.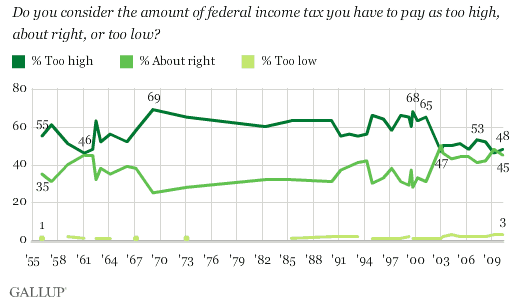 2.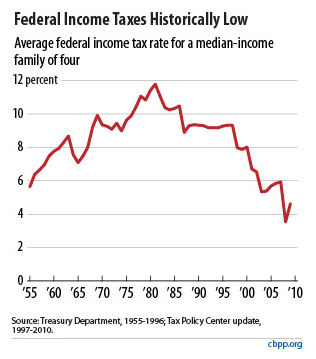 Total tax rates (if you include income, capital gains, payroll, corporate, excise) have declined for every income quintile, and especially the top percentiles, in the last 30 years. It's no wonder more Americans are feeling OK about their federal income tax burden. Forty-seven percent of US households now pay zero or (more likely) negative income tax. Same goes for fifty-five percent of elderly households, 54% of households with children, and 38% of married couples filing jointly.
There's good reason to like your tax burden today, and good reason to believe you won't have it this good for very long. The total federal tax burden on the country has hovered around 22% for the last 30 years. This year, it's closer to 18%. President Obama's 2012 tax plan would raise it to around 20%. Historically, that is low. Too low, in fact, if federal spending approaches a quarter of GDP in 2020.