Unemployment Rate Unchanged at 9.7% in February
Last month, the national unemployment rate was unchanged at its rate of 9.7% in January, according to the Bureau of Labor Statistics. That beat consensus expectations, which expected a slight rise to 9.8%. The U.S. lost 36,000 jobs in February, 32,000 fewer than the 68,000 economists expected. This was, however, a little worse than January when the U.S. only lost 26,000 jobs (revised up from 20,000). This month's additional jobs lost increased the total number of unemployed slightly to 14.9 million Americans. Let's dig into the numbers.
Here's some historical unemployment rate movement, via BLS: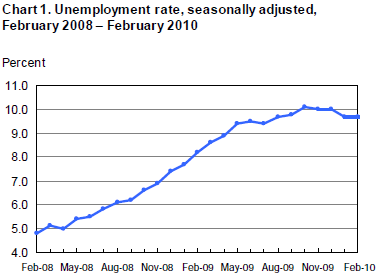 And the number of jobs lost/gained: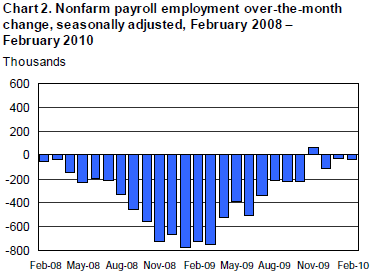 As you can see, the increase in lost jobs is a very slight one. Again, this appears to indicate some stability is taking hold, which should bring actual job growth soon.
One strange thing about February was the weather. Snow may have affected hiring. Here's what BLS says about the way the weather may have skewed the statistics:
In the household survey, the reference period was the calendar week of February 7-13. People who miss work for weather-related events are counted as employed whether or not they are paid for the time off.
This appears to indicate that the weather shouldn't have had much effect. If anything, I think it could have delayed some hiring. But temporary jobs were also created by the weather for the snow removal. So it's hard to say just how large an effect the weather might have had, but I don't believe it could have been that significant.
On an industry basis, construction continues to suffer, losing another 64,000 jobs. Last month, retail added 42,000 jobs, but this month growth was flat. Health care continued to add jobs with an additional 20,400. Finally, temporary jobs continued to increase, with 48,000 more. As mentioned before, temp jobs lead employment recovery, so their continued growth is a positive sign.
Today's news is slightly better for other measures as well. Up to now, I've been writing about seasonally-adjusted statistics. If you don't adjust, then the results are a tad better. In February, the unadjusted unemployment rate declined to 10.4% from 10.6% in January. Here's the movement: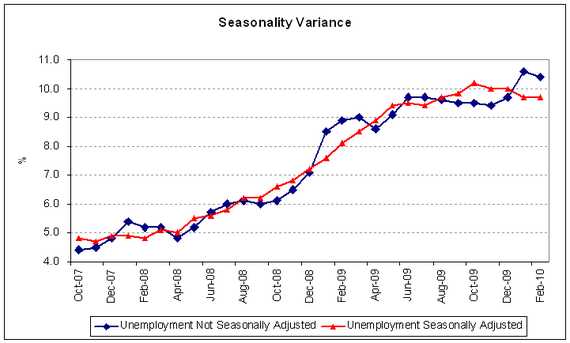 I would expect the variance between these two curves to continue to shrink over the next few months. It's notable that the unadjusted rate is declining to meet the adjusted rate. That's different from what happened last year at this time, when the adjusted rate rose to meet the unadjusted rate. The movement this year is definitely better. It indicates that the labor market may be on the verge of seeing real job growth.
Also slightly positive news is unemployment duration: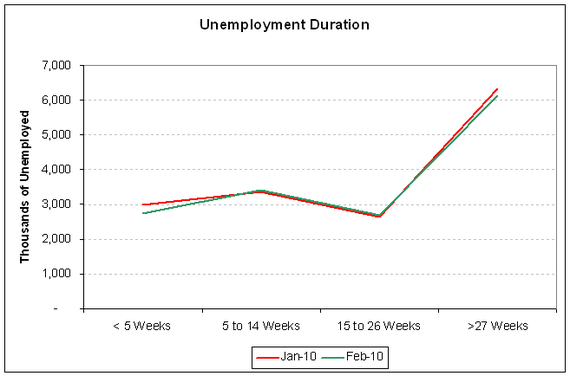 The green line for February is now mostly below the red line for January. For the longest duration of more than 27 weeks, the decline of 180,000 is particularly notable. If the unemployed aren't staying jobless for as long, then that's a very good sign.
Yet, it's only truly positive if those Americans are actually finding jobs instead of just giving up. The discouraged worker numbers don't help reinforce that hope: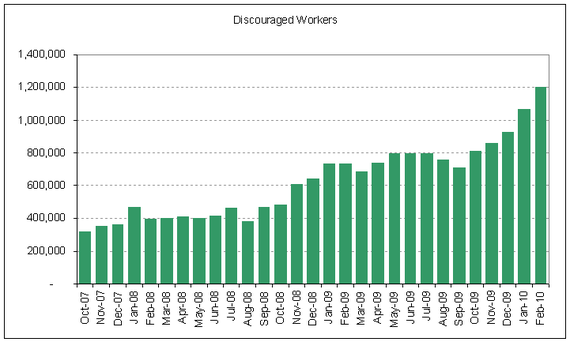 This continues to be the most disappointing data in the report. There were more than 1.2 million discouraged workers in February. That's a 50% increase since October -- in just four months. These workers aren't reflected in the 9.7%, so when they re-enter the work force that will make it harder for the rate to decline.
As for measures of underemployment, they're still bad but slightly better on an unadjusted basis. The broadest statistic -- total unemployed, plus discouraged, marginally attached and those working part time but would like full time work -- was at 17.9% in February, down slightly from 18.0% in January.
It's hard to make any strong statements about what February's data tells us. It's questionable to begin with, given the irregular weather. We continue to see some job losses, but a relatively small number. Broader measures are also still quite ugly, and the steady growth of discouraged workers is particularly troubling. But there are signs that job growth isn't far off. Until we see consistent positive numbers, however, it's hard to get excited about these reports.
Finally, readers who took yesterday's unemployment poll did a little better than last month, when a meager 2% got the right rate. This time, 9% correctly predicted 9.7%. Yet, the majority of voters -- 46% -- thought the rate would increase to 10.0% or more. Pessimists! Here are those full results:
(Image Credit: Seansie/flickr)