The Immediate Market Implications of Financial Reform
It's all well and good to talk about how great it would be, in theory, if firms were no longer guaranteed to be too big to fail by the U.S. government. But it's also useful to consider how regulatory reform, including a non-bank resolution authority to make sure firms could fail, will actually change the market as we know it. The Financial Times' Alphaville blog had a nice post by Stacy-Marie Ishmael on this yesterday, merging the thoughts of Moodys, S&P and Barclays. In short, big banks will be worse off pretty immediately. But that shouldn't come as a surprise.
Here's what Barclays says, via FT Alphaville:
Resolution authority increases the risk of bank bonds because it reduces the probability of future government bailouts and increases the uncertainty of recovery upon failure. We expect bank spreads to remain wider than industrial spreads as financial services reform moves toward enactment...
Over the past few days, I've argued that a resolution authority might actually provide systemically relevant firms with some completive advantage. I still think that's true, but I also think Barclays is right to assume that banks will initially face higher borrowing costs -- depending on how the resolution authority actually works.
The assumption that I think Barclays is making is that the debt of these firms will not be part of the bankruptcy costs paid for by the resolution authority. That's probably right -- at least I wouldn't think debt obligations would be paid in full, if at all. That means that this debt goes from having an implicit government guarantee, as it does currently, to being subject to failure. And as GM's and Chrysler's bankruptcies have shown, the U.S. government tends not to treat creditors too nicely when it controls bankruptcy.
So by how much will big bank debt ratings be affected? FT also provides this nice chart from Barclay's report: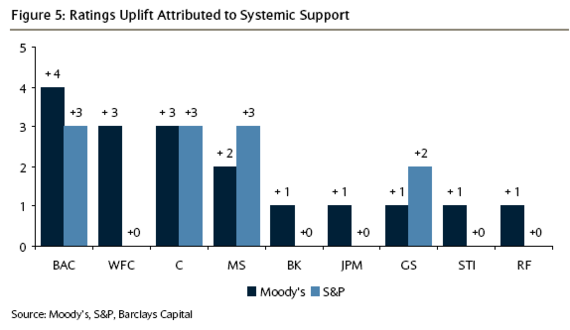 As you can see, the government's implicit guarantee is having a real effect on big banks' borrowing costs currently. That's bad for competition. As soon as these firms are subject to failure, that should change.
The big question that remains, then, would be just what costs of failure will be covered by the resolution authority, as these banks will retain some competitive advantage if certain kinds of costs or relationships are protected. Even if their debt loses any government backing, other products, like derivatives, may be fully or partially guaranteed by the resolution fund to ensure market stability despite a big firm's default. That might not affect the big banks' ratings, but it will definitely increase other firms or customers' willingness to do business with them, instead of their smaller, non-systemically regulated competitors.