Pay Limit Consequences: More Cash and Messy Divorces
Bloomberg has a pair of good articles dealing with consequences from the compensation limit push that began on Wall Street. The hard times and public outcry over high pay has prompted all executive pay to suffer. But economic uncertainty has led CEOs to demand a higher proportion of cash. Separately, Wall Street firms' decision to defer more pay has made one kind of already messy situation a little more chaotic: divorce.
CEO's Get More Cash
About a week ago, I wrote about how CEOs were paid less in 2009 than in 2008. But there was also a change in compensation mix. CEOs wanted to make sure their pay didn't suffer if stocks ran into trouble. A higher proportion of cash probably also made them more willing to grudgingly accept lower overall compensation. Bloomberg reports:
"When the economy is reeling, the most stable form of pay isn't stocks, it's cash," said Sam Pizzigati, an associate fellow at the Institute for Policy Studies in Washington who has written about executive compensation and shareholder activism. "In rough times, the surest thing is cash, and that's what they went for."
Bloomberg also includes the data of how compensation has changed for 81 U.S. CEOs, which I've put into the following to pie charts that show how the mix has shifted: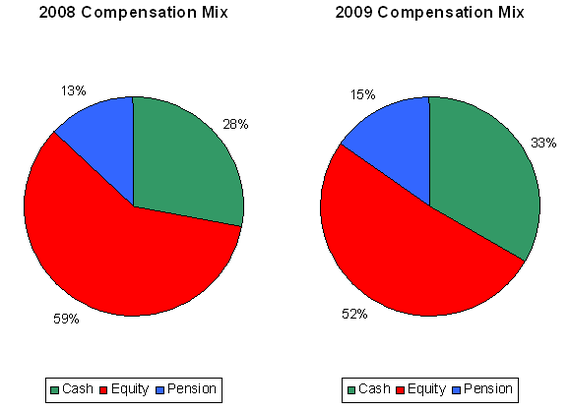 As you can see, the mix changed from 28% to 33% in cash awards, and equity dropped from 59% to 52%. In terms of average pay, this amounts to cash compensation increasing by about $260,000 per CEO -- even though their total pay declined by $910,000.
If there's any lesson about pay that the market should have learned from the crisis, it's that long-term profits should be in focus. Thus, the trend above should disturb us: it's the opposite of what we would like to see. A higher emphasis on equity in compensation mix does a much better job of encouraging executives to care about long-term risk and reward.
Messy Divorces
On Wall Street, however, the industry has begun to adjust to the complaints about cash bonuses ignoring long-term risk. As a result, bankers have been forced to accept more deferred compensation. Bloomberg says:
Shifts in incentive compensation will affect most financial services workers who make more than $200,000, or about 50,000 people in New York, New Jersey and Connecticut, said Alan Johnson, president and founder of compensation consultant Johnson Associates Inc. in New York. About 50 percent of pay is being awarded in restricted or deferred compensation, said Paul DeLucia, a partner at Options Group, a New York-based executive search and compensation consultant firm.
That deferred pay often takes around three years to vest. This makes evaluation of these bankers' assets more challenging. When does that matter in particular? In divorce settlements. According to Bloomberg:
Divorce settlements for executives such as bankers who rely on bonus payouts are becoming harder to negotiate as some firms give employees less cash and more long-term incentive awards including restricted stock and deferred money. That makes the bonuses more difficult to value and divide, said Eleanor Alter, a New York-based divorce attorney.
How do you sort through an evolving net worth in a divorce? If a banker files for divorce a month after getting awarded a deferred stock bonus of $500,000, how does his ex-wife get half? How much child support must he pay? These questions aren't easy to answer. The value of that bonus may change with the stock price. In some cases, a portion could even be clawed-back if the firm runs into trouble again.
Obviously, more difficult divorces aren't a reason to reconsider deferred compensation: it's a good idea for better economic stability. So lawyers will have to continue working through this mess until they figure out a fair way to divide up assets. Of course, another idea would be for banks to include some additional non-cash benefits as bonus compensation: maybe perks that enhance work-life-balance like more time off or complimentary marriage counseling could help to prevent some of those divorces.