New Consumer Data Reiterates Slow Recovery
A few consumer-focused economic data points came out today. Retail sales were up in February, sort of. But consumer confidence, which was already dreadful in February, may be getting even worse in March.
The Census Bureau reports (.pdf) that seasonally adjusted retail sales were up 0.3% in February. That doesn't sound like much, but it's a movement in the right direction, right? Well, yes. But the report also revised January's number down $1.4 billion and December's down by $270 million. That changes the picture from the orange line to the green line below: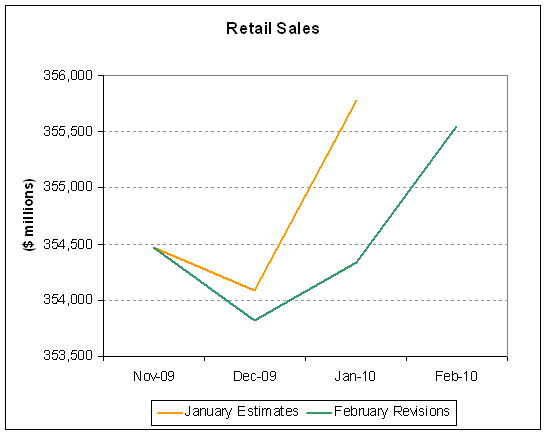 So Sales were slightly worse in February than what we believed they were in January. But they are, indeed, heading in the right direction since December. Just not as quickly as we thought.
The news is worse for consumer sentiment. The Thomson Reuters/University of Michigan's Surveys of Consumers was even lower in March than in February. Reuters reports:
The preliminary March reading for the surveys' overall index on consumer sentiment was 72.5, down from 73.6 where it ended in February, and below the 73.6 forecast by analysts polled by Reuters.
The survey also indicated that Americans are losing confidence that the government will manage to do much to help the economy. They don't believe the unemployment rate will change much this year.
Whether U.S. consumers will do more to stimulate the economy is still unclear through this data. Sales are improving a bit. But Americans' belief that the recovery will be a slow one and that unemployment will remain high could turn out to be a self-fulfilling prophecy if it affects their spending. At best, today's data supports the thesis that the recovery will likely be a slow one.