Consumer Confidence Up in March
The good news: in March consumers were more confident. The bad news: only a little more confident. Still, that's a big reversal from the plummet we saw in February to a 27-year low. Some, but not all, of that drop has been recovered, according to the Conference Board.
Here's the hilariously tiny chart from the Conference Board showing the index since July: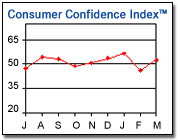 If I squint, it looks like we're slightly above November's index reading, but slightly below December's. So, again, this month's gain was significant, but doesn't nearly place us back on the upward trend that appeared to be forming from October through January. The news is positive for all aspects of confidence though, according to the Conference Board:
The Conference Board Consumer Confidence Index®, which had decreased in February, rebounded in March. The Index now stands at 52.5 (1985=100), up from 46.4 in February. The Present Situation Index increased to 26.0 from 21.7. The Expectations Index improved to 70.2 from 62.9 last month.
The 52.5 index reading also beat economists' estimates of 51. Other statistics the company tracks are also improved.
This pairs rather interestingly with yesterday's income, spending and savings data released from the Commerce Department. There, spending increased by an annualized rate of 0.3%, which the market celebrated -- even though it was a smaller rise than the 0.4% increase in January. It probably expected much worse. Income, however, was flat in February, after increasing by 0.3% in January. So most of that spending was in lieu of savings, which declined by 9.3%.
If consumer confidence really does correlate to spending, then that implies we'll see an even larger increase in March. Remember, spending was up more in February than in January, despite a dive in sentiment. So March spending could potentially be way up. Of course, without a comparable pop in income that additional spending will be at the expense of saving. That would be a positive short-term result for the economic recovery, but a negative long-term consequence, since many have been hoping that a newfound fiscal responsibility would be an enduring outcome of the recession.
(Nav Image Credit: richkidsunite/flickr)