Who's to Blame for the Music Industry's Free-fall?
Total revenue from US music sales and licensing fell almost 60 percent in the last decade, from $14.6 billion to $6.3 billion. Why? The Internet replaced music stores as the most convenient place to find and grab music for your library.
This graph tells the story: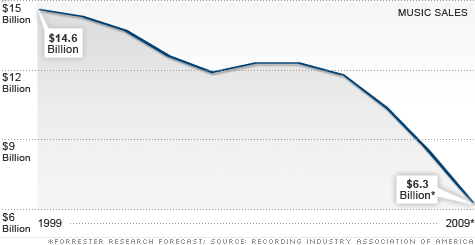 By David
But the music industry has a strange interpretation of the picture above:
Apple's iTunes is credited with finally getting people to pay for digital music, but it wasn't unveiled until 2003...
Time out: The music industry's revenue is half what it was in 2003. It's not clear to me that iTunes did anything more than ring the death knell of record stores while revenues continues to plunge. OK, time in:

..In the time between Napster's shuttering and iTunes' debut, many of Napster's 60 million users found other online file sharing techniques to get music for free. Even after iTunes got people buying music tracks for just 99 cents, it wasn't as attractive as free.

"That four-year lag is where the music industry lost the battle," said Sonal Gandhi, music analyst with Forrester Research. "They lost an opportunity to take consumers' new behavior and really monetize it in a way that nipped the free music expectation in the bud."
Why does Gandhi think those years were so crucial? During the "four-year lag" between 1999 and 2003, music sales fell no more than 20 percent. Six years after iTunes debuted, sales fell another 40 percent. I don't know that any one thing is responsible for this -- you could point to bitTorrent technology or YouTube or some illegal downloading services or just file it all under: The Internet. But I don't particularly understand why you would blame the erosion of music profits in the last three years on some lost opportunity circa 2002.
Music is free now, and it has been free for millions of Americans for more than a decade. The industry was never going to unring that bell.
[via Matt Yglesias]