How the Stimulus Fattened Our Wallets
The debate over the jobs bill revolves partly around the larger question: did the first stimulus work, or not? Briefly: I think it did a lot more good than bad, but defending it can be difficult. It probably added to GDP growth, but to prove that would require a counter-factual that we don't know -- GDP growth without the stimulus. It probably reduced unemployment, but to prove that would require another counter-factual that we don't know -- the unemployment rate without the stimulus.
That's one reason I'm indebted to EPI economist Josh Bivens for what I think is the most illuminating point about the stimulus' effect I've heard:

In a podcast with The Nation's Chris Hayes, Bivens explains how we can measure the effect of the stimulus on disposable income and, indirectly, to consumption, which makes up between 60 and 70 percent of our GDP. If you look at personal income minus government transfers -- this is a good proxy for how the private sector is doing at generating income growth without counting government assistance -- that measure has fallen by 8 percent since the recession began. But disposable personal income -- what people have the ability to actually spend, due to tax breaks and government transfer payments like unemployment insurance -- is actually up one percent. One reason consumption hasn't fallen off the cliff, he suggests, is that Recovery Act has extended billions of dollars of transfer payments and tax credits as the private sector suffered.
Here's the graph showing "the difference in year-over-year growth in personal income minus transfers versus disposable personal incomes":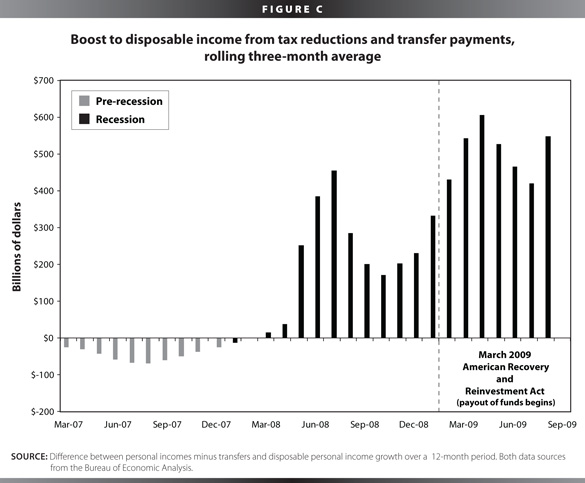 The problem with the stimulus, Blevins concludes, it that it might end to soon. In the second half of this year, the White House expects it to add almost nothing to GDP growth, just as unemployment is finally falling. That's one reason why Blevins thinks that despite the Recovery Act, we're still in for a "long, ugly muddle."