Facebook = Google + Yahoo + Microsoft + Wikipedia...
American Internet users spend more time on Facebook than on Google, Yahoo, YouTube, Microsoft, Wikipedia, and Amazon combined. Ben Parr of Mashable points me to the latest Nielsen online traffic numbers. While Google retains the lead in total users, Facebook absolutely crushes in time-per-person.
(Remember last year when Virginia Heffernan of the New York Times declared a growing Facebook Exodus because some of her friends thought the site was annoying? So much for that.)
Here are the charts, via Ben: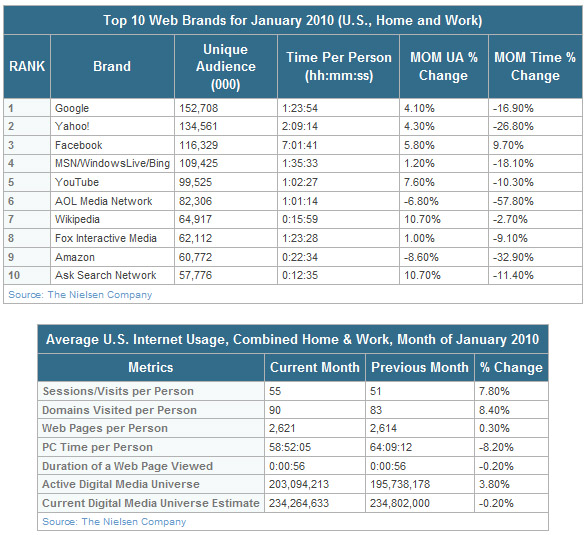 We knew that Facebook's page views exploded in late 2009. In December, it notched as many page views as MSN and Yahoo combined. But something else is happening. Facebook is becoming more than a live-action yearbook. It's becoming a major source of news, too. Facebook now drives 3.5% of visits to news and media websites -- almost three times more than Google News. When 116 million uniques spend an average of 7 minutes a day on Facebook, it necessarily becomes a place to stay in touch with both people and stories. Whether it is good for news consumption habits that Facebook traffic is booming as news site traffic is falling (and it is), I don't know. But Facebook's foray into news -- combined with Google's foray into social media with Buzz -- sure seems to set up a fascinating power struggle over where millions of Internet users consider their information "home."