10,000,000,000th Song! Apple iTunes Hits Milestone

The song: "Guess Things Happen That Way" by Johnny Cash. The buyer: Louie Sulcer, 71, of Woodstock, Georgia. The price: $0.99, of course.

Apple iTunes is celebrating its 10 billionth song download since it was introduced in 2003. Meanwhile in the music industry, this happened: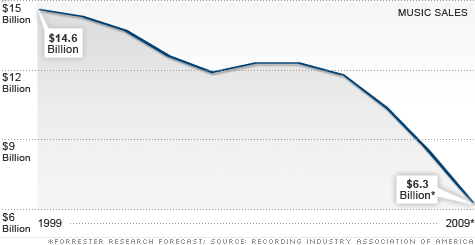 It's interesting that the success of iTunes seems to slightly the buck the trend in bundling you see in the rest of our information-hungry, and supposedly information-cheap, world. On television, we pay for cable, which means we pay for access to a menu of channels, which in turn provide access a range of content. In the home movie industry, Netflix charges a flat fee for nearly limitless access to shipped or streamed movies. On the Web, the world is at our finger tips for the price of monthly access fee. In other words, we're largely living in a world where we pay for access -- and we pay a lot, as Nick Carr reminds -- rather than content.
But iTunes isn't selling access. It's selling content, song by song. It changed the game by letting us buy individual recordings instead of albums, which dovetailed beautifully with the rise of playlists, the modern cousin of the mix tape. I wish it a hearty congratulations, even as I suspect that the content-over-access model might not be long for this world.
(Photo: Wikimedia Commons)