More on GrandView, Thinklinkr, and other "interesting outliners"
I mentioned recently a new free, collaborative, cloud-based outliner called Thinklinkr, which is a worthy new contender in this troubled field.
Two bits of extra info for the outline-curious. First, a spectacularly thorough and provocative post by Stephen Zeoli on the "Welcome to Sherwood" site, here, on the reasons why so many buffs consider the orphaned, antique, DOS-only program GrandView the best outliner ever invented. (Gentle hint to Thinklinkr crew and others: read that post, and shamelessly copy!) GrandView screenshot, from the review: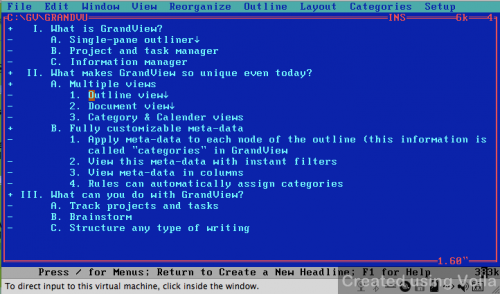 Then, below and after the jump, selections from a message from Jason Tillery, one of the two-man crew responsible for Thinklinkr, about the idea behind its development and future plans. I wrote asking him, What should I know about this program? Parts of his reply follow. The ellipses are for the more overtly corporate-PR sections; I've left the material that explains the development strategy:

"Outlining software has been around since the 60's, but until now there were no real web-based offerings.
"There's a surprisingly large group of people who use outlining software on a regular basis, and many of them have been clamoring for something like Thinklinkr for a long time.... Being web-based your outlines are available everywhere, you don't have to install anything, you get automatic revision history, and you can collaborate with other users in real-time....


"My partner, Vishu Ramanathan, and I started Thinklink LLC in January of 2008. We spent the last two years working on building web applications that, like Thinklinkr, feel as usable and responsive as their desktop counterparts. The first product we built, Mocklinkr, is a tool that helps designers share mockups with their clients....

"In coding Mocklinkr we were able to extract a framework for developing other similar applications. We call this framework Rio and we used it to build Thinklinkr. The significance of extracting the framework rather than imagining it up front is that Rio solves the real problems that we actually encountered and identified as repetitive and generic. These problems represent the majority of the work that you will encounter if you try to build a desktop-like web application. As such, about 80% of the code behind Thinklinkr is part of Rio....

"Even if you somehow avoided using outlines in school, people inherently understand the core concepts. Concepts like "inclusion", "hierarchy", and "precedence" are naturally mapped in an outline and as such we can share an outline with someone without spending any time describing the document's structure. What's really surprising is that people don't often use outlines to collaborate. [Their program aims to change that]...

"Getting people to collaborate with outlines instead of free-form documents or even emails is not actually as difficult as it sounds. We've found that the biggest reason that people don't do this already is that there is just too much friction. Everyone can open up a Word document make some changes and email it back, but if you send someone an OPML file they won't know what to do with it....

"While ultimately we think that everyone could benefit from using outlines, a couple of uses we are focusing on, in addition to personal organization, are meetings for business users and lectures for students....

"We're still in beta and we have yet to sort out the premium features that will someday define a pay version of the application... Outlines will become scriptable, giving users the ability to customize the behavior of the application. Linked images and videos will render right in the outline. Users will be able to link outlines together, including them inline. We'll add support for columns and styles and the last few features from our desktop counterparts. And finally we are going to explore the ways we can use an outliner as the foundation for other, more specialized, applications like project management, GTD, and bug tracking."

The more activity in this field the better. Good wishes to all developing such products!