What the Recession Does to U.S. Environmentalism
Here's an interesting poll I missed in March (via Free Exchange). For the first time in Gallup's 25 year history of asking Americans to choose between economic growth and environmental protection, a majority sided with the paper money over the trees. As cap-and-trade looms for Senate Democrats, there are three interesting things about America's historic reluctance to go green.  First I'm sort of shocked about the first 24 years of the poll. I would not have guessed that merely a decade ago, in 1999, 70 percent of the public favored protecting the environment even at the risk of curbing economic growth. I honestly would not have pegged Americans as that green.

Second, upon closer examination, the lines in the graph are pretty conspicuous placeholders for the economy. They closely trace our booms and recessions.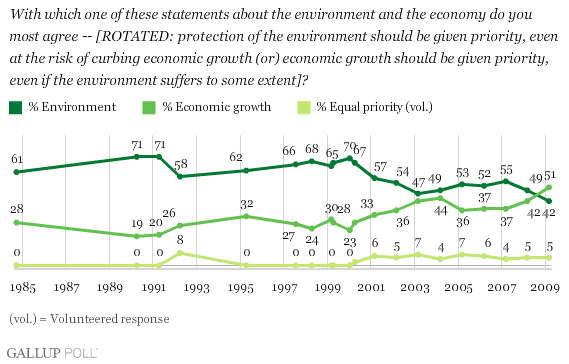 Up through the 80s, down in the early 90s, up through the mid-90s, down around 2001, middling through the aughts and plunging in 2009. That's me reading the dark green line, but it also sounds like me describing our economy over the last 25 years. I don't know how to run regressions, but I'm confident this is the kind of relationship statisticians would find statistically significant.
Third this poll represents horrible timing for Senate Democrats. It's got to be hard to pass a historic climate change bill when public support for climate change legislation is at historic lows. To that end, it represents a challenge for White House leadership. The longer you wait for the economy to get better -- and, by extension, for Americans to feel better about curbing economic growth to protect the environment -- the closer to you to (a) the contentious 2010 election or (b) a significantly reduced Democratic presence in the House and Senate. If you wait on CAT, you give up your party advantage. If you rush CAT, you potentially run your party advantage into a wall of of opposition. My take? Focus on financial regulation in Q1 2010.