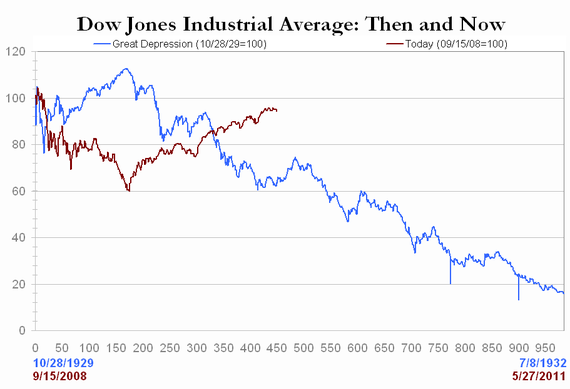 449 days after the collapse of Lehman Brothers and the launch of the current financial crisis, it is tempting to think that we may be through the worst of it. Unfortunately, these thoughts were prevalent among sufferers of the Great Depression on January, 20, 1931--449 days after Black Monday tolled the beginning of that downturn--but they had a rocky road still ahead. The Dow wouldn't hit bottom until July 8, 1932. In the event that our current crisis follows a similar pattern, our nadir would occur on May 27, 2011.
On Tuesday January, 20, 1931, 449 days after the beginning of the Great Crash, the Dow was up 4.37 points or 2.71 percent. At 165.82, it was well below its September, 1929 peak of 381.17 but was still 124.6 points from bottoming out in July, 1932. News reports on that Tuesday showed that in 1930 over 1,300 banks failed, double the number from the year before, while deposits in the nation's one hundred largest banks grew by about 1.3 percent. The New York Stock Exchange saw its slowest trading day in four and a half years, the price for a barrel of crude oil hit $1.189 and Britain handed legislative autonomy to India.
On Tuesday December, 8, 2009,
 449 days after the beginning of the current financial crisis, the Dow was down 104.14 points or about one percent. 
Stocks fell and the dollar rallied
 amid credit concerns in Dubai and Greece. Mexico, the world's sixth largest oil producer, 
took out
 a $1 billion insurance policy against oil prices falling in 2010, and 
Japan announced
 an $80 billion economic stimulus package, both signs that the countries fear a possible "double-dip" recession. President Obama 
outlined new initiatives
 to reclaim lost jobs. 
The closing average of 10,285.97remains 3,878.56 points below the Dow Jones' October 9, 2007 peak.
(This feature is from a new business-oriented website to be produced by Atlantic Media and to debut in March.)