Last week, the Government Accounting Office issued a report on interchange fees, with the summary right there in the title: "Rising Interchange Fees Have Increased Costs for Merchants, but Options for Reducing Fees Pose Challenges." (links: full document, 1 page summary) Before we get to the big findings, what is an interchange fee, anyway? From the report:
When a consumer uses a credit card to make a purchase, the merchant does not receive the full purchase amount because a certain portion of the sale is deducted and distributed among the merchant's financial institution, the financial institution that issued the card, and the card network that processes the transaction. The majority of this amount generally is called the interchange fee and goes to the financial institution that issued the card. As card use has become more popular, the costs for merchants of accepting them have been rising, and considerable debate has been occurring over these costs, and particularly the level of interchange fee rates.
So what does this look like? Let's look at a diagram of this process broken down (click to enlarge):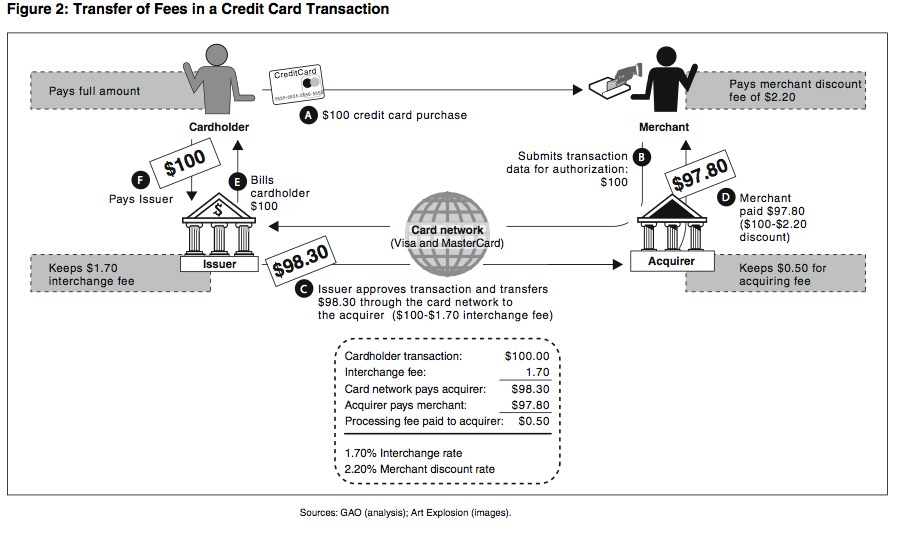 You charge $100 with a credit card. The store has a hypothetical contract with his bank that has a 2.20% merchant discount rate and the bank affiliated with your credit card has a 1.7% interchange fee. So your bank collects 1.7% of your charge, while the store's bank collects 2.2 - 1.7 = 0.5%.
Now according to Federal Reserve analysis used by the GAO report, these fees have been going up. Looking at a chart from the GAO report, we can see the change in interchange fees over the past ten and twenty years (click to increase):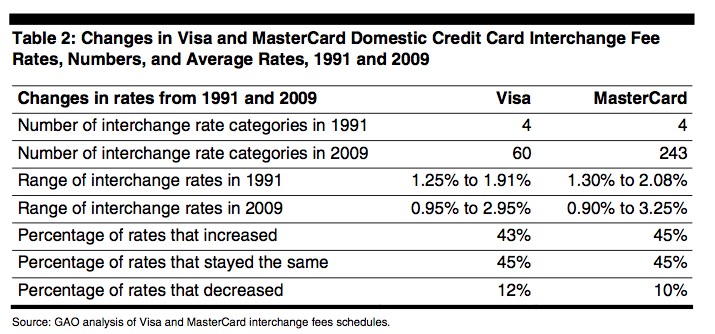 These numbers are reflective of domestic credit cards. The number of different categories a business could use have increased greatly since 1991. Visa went from 4 to 60, and Mastercard from 4 to 243. Critics argue that some of these increases in categories are to confuse and overwhelm merchants. But it makes sense that the credit card companies would need more specific and targeted categories over this time period since people are using credit cards for many more different types of purchases, including government, utilities, groceries, and online purchases, that they weren't using in 1991. As such, the credit card companies want a variety of options to be able to target the needs of a variety of businesses.