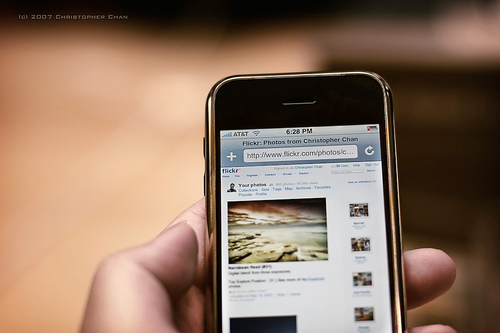 Recently my wife and I got iPhones. There's a lot to say about them, but most of it has been said, so I'll spare you. What I find most interesting and surprising, after about a week of ownership, is what spectacular reading devices they've turned out to be. In fact I find it easier to read a newspaper on my iPhone than I do on paper, probably because of the low-light problems associated with presbyopia. The iPhone screen resolution is just dazzling, and anyone with a special interest in the future of books, reading etc really ought to head over to the nearest Apple store and play with one. I read parts of The Mayor of Casterbridge on mine, and have installed the NY Times and Wall Street Journal apps.
Once you get started with this, any doubt you might have had about the future of ink on paper will likely fall away. Simply put, there is no future for ink on paper, at least not in the mass distribution and consumption of text. I've only briefly played with a Kindle, but I believe that Apple's long-rumored tablet (basically a big iPod Touch, which is essentially an iPhone without the phone) has the potential to be truly transformative, if it's priced right.
I wonder if they are considering some kind of subscription-subsidy model, like the iPhone with AT&T. Why not sell people the tablets cheaply if they agree to spend a certain amount each month on reading matter for a couple of years?
Although there are serious implications for people like me, who make their living with a keyboard, I think the shift to e-books is mostly a good thing, and has the potential to help revive literacy, as email has done. But this may be entirely wishful; it's only human to see virtue in necessity, and this change is coming whether I like it or not.

(Photo: Flickr/Christopher Chan)