Scariest Chart of the Weekend, Labor Edition
If you want good news about the job market, don't read newspapers. It seems that every weekend gives us another visual way of displaying how bad the things have gotten for job seekers. Check out this graph by the New York Times: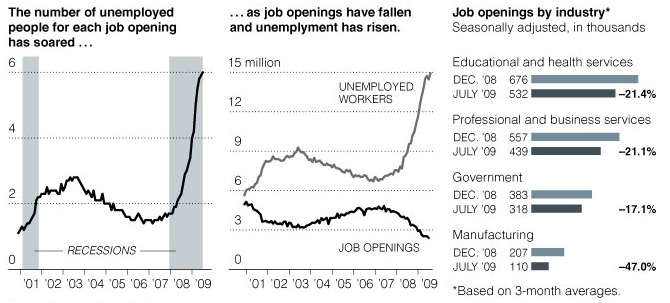 Here we can see that job seekers outnumber job openings by a ratio of 6:1. There are six people looking for employment for every job opening that is available. The ratio of decreasing job openings are bad across the board; bad for the high growth areas of education and health care, bad for educated workers in mangerial work and worst for the male-dominated manufacturing industry.
Since the labor situation is so bleak, we'll see more people stop looking for jobs. This may distort our normal statistics on unemployment, as this will increase the U4-U6 ratings (includes discouraged and part-time workers) instead of the U3 rating, ortherwise known as the "official unemployment rate." We'll also see more people who have been unemployed fully drop out of the job search. So in some ways, things have gotten so bad so quickly we may not see 10% (U3) unemployed, because people will be dropping out too fast.
And for all the bizarre claims that unemployment is high because the government is encouraging people to sit around, particularly through unemployment insurance, it's important to see how much the job openings have declined. This isn't simply a higher unemployment number (which it is) but a lower job opening as well. During the stimulus debate, former McCain economics advisor and Chief Economist for Moody's Economy Mark Zandi argued that extending unemployment benefits had one of the best bang-for-the-buck ratios for stimulus, second only to food stamps. Regardless of what you thought of the stimulus, this is a no-brainer, and if anything, as Derek Thompson wrote, the jobless benefits extension didn't go far enough.