Kevin Drum is puzzled:

Well, here's today's [chart]: day trips to Canada are down.  Way down.  It's not clear why, either.  The accompanying story blames it mostly on new passport rules, along with "other factors, including the recession and the higher Canadian dollar."  But that doesn't really hold water.  The downward spike from May to June might be due to new passport rules, but the chart makes clear that travel has been steadily decreasing ever since it recovered from 9/11 in early 2002.  Obviously passport rules have nothing to do with this 7-year trend, and neither does the recession or the strength of the Canadian dollar.
So what is it?  Take your guesses in comments.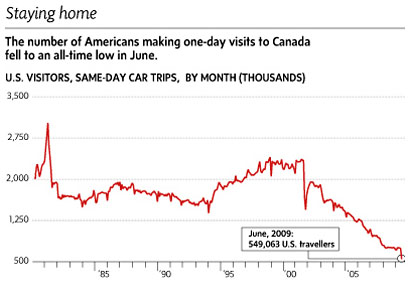 Actually, Kevin is wrong:  the exchange rate trend explains it very well.  Starting in 2002, the Canadian dollar started strengthening against the US dollar for various reasons.  This severely cut into what we might call "the carry trade"--people who crossed the border on day shopping trips to get the "Canadian discount".  It was a very regular practice in border states, particularly in the east.  Now things are more expensive than they are here.  The only period during which the American dollar briefly recovered against the loonie was during the financial crisis--when no one felt much like shopping.  By then, too, the new passport regulations had made travel to Canada rather more onerous.