I've been in London for about a week, assuaging my time-zone difficulties, late at night, with the Yanks and Red Sox on ESPN America. Given the upheaval going on in the newspaper business in the States, it's been interesting to read the papers here, because I think they give some sense of where we're going with ours. There are a lot of them, sort of, but they seem largely national rather than local, and beneath their surface vitality the quality of reporting and editing is disappointing.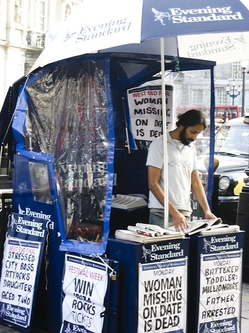 My very subjective experience is that articles in the papers here tend to be much thinner (a single source, or maybe two, or maybe the sourcing is entirely vague), seem to have a more obvious agenda, and often are hyped out of all proportion to promote newsstand sales.A good example:
The Independent
the other day blared, "Secret Deal to Keep Karzai in Power" across page 1. But the lede says Karzai "is
trying
to cut a secret deal with one of his rivals to knock out his leading contender and ensure a decisive victory." This is right under the giant headline! And there is no real sourcing whatsoever; there is just "officials.
In general, I haven't seen a paper that comes close to the breadth or professionalism of
The New York Times
,
Washington Post
or a great regional paper like
The Boston Globe
. There isn't much local coverage either, although London's many boroughs, which function like an agglomeration of villages and have local politics etc., seem to have weeklies that focus on them. (On the other side of the balance sheet, there is the BBC, to which we have nothing comparable except perhaps on radio with the growing power and reach of NPR.)
I've talked about this in the past with my well-traveled friend Nick Schultz and so raised the subject anew yesterday. Here is what he said:
...it's oh so much worse in other countries.  India has a thriving press--lots of papers, lots of competition, huge markets, etc.--but the quality is abysmal there, too. Look, there's lots wrong with American media, but American newspapers are a singular achievement in terms of quality and substance.  We will likely lose that over the next ten years or so and it will be a shame.  A lot of factors conspired together to make American newspapers really high quality.  Those factors are evaporating, and so quality will evaporate.  I do not look forward to that time--not as a sentimentalist but as someone who enjoys good news reporting and information gathering and is willing to pay for it.  Maybe the market will work something out.    Doubtful.
That's what made this admittedly casual exercise particularly interesting to me: I believe American papers soon enough will be more like those in Britain, with many fewer ads, smaller staffs doing quicker but perhaps shallower work, a greater reliance on freelancers and a higher ratio of commentary (which is cheaper) to reporting.
(Photo credit: http://www.flickr.com/photos/bchu81/613680775)