Mike Winerip has a fine, sad story in the New York Times about a 58-year-old man who went from a highly paid executive position to 18 months of unemployment. Of course billions of people (in war-zones, hospices, etc.) are worse off. But what I found interesting about the piece is that this man's life seems to encapsulate everything that is best and worst in American life.
On the one hand, he enjoyed a level of freedom and affluence that would have been unimaginable to most people not long ago--or to many of the world's people today. On the other hand, he's a strange, free-floating form of being, lost in time-space, a victim of the intense specialization and mobility that modern life fosters. When things were good, he used this freedom to leave his wife. Since he could work from home (at a job he can barely explain), he moved from suburban Washington, DC, to somewhere in Florida. Then his job went away and he moved to suburban New York, where he thought there would be more opportunities. But there are none. Prospective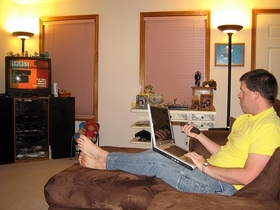 employers want applications to be submitted electronically, then never respond to them, so that the whole thing seems an exercise in futility, like yoo-hooing frantically into the void. Now he has no job, no apparent community and no particular prospects. He lives alone, of course. I should think his current situation, to many of the world's people, would be terrifying.
Yet he strives to reinvent himself. He's writing genre novels, taking notes on his Blackberry. It's great that he doesn't just sit home, drinking beer and watching TV (like everyone else!), but what a sad pickle. I cannot think of a recent article that captures more effectively both the great opportunities and terrible pitfalls of life in our society.
Photo Credit: http://www.flickr.com/photos/exalthim/226974610