How DARE I claim that stimulus spending didn't get us out of the Great Depression?  GDP growth was really, really high under FDR!!!!
Item One:  Even a dead cat will bounce if you drop it from a high enough height.  GDP contracted by nearly a third during the acute phase of the crisis, from 1930-32.  It wasn't actually going to continue to contract indefinitely.  This is basically the pattern you see in most countries with major financial crises:  severe contraction, and then rapid climb back towards former output levels.
Item Two:  Remember how we talked about increasing a measurement by increasing one of its components?  Government spending went up, which naturally pushed the measurement up.  But that didn't mean the economy was healthy, and no reputable economist, left or right, claims that the Great Depression ended before 1940.
Item Three:  The statistics point to a lost decade.
Unemployment: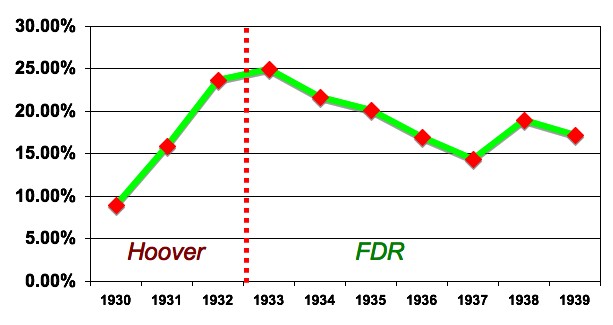 GDP: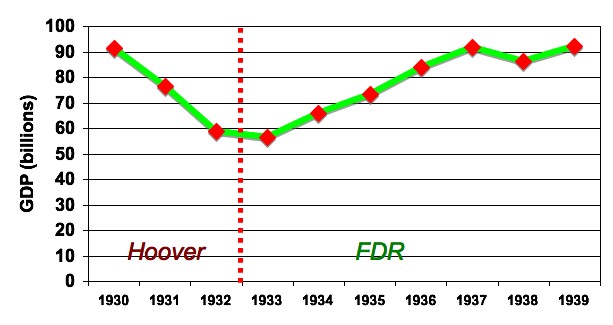 The economy basically recovered to the same level of output it had enjoyed in 1930, with much higher unemployment (17% in 1939).  Indeed, FDR had more years of 20+% unemployment than Hoover.  But of course, during that time, the population had grown somewhat, so GDP per capita was slightly lower than in 1930.
An economy with 17% unemployment is not healthy.  And economy with GDP fluctuating around the same level it was at ten years ago is not healthy.  A healthy economy would have displayed new growth and much lower unemployment.
FDR's programs may have helped alleviate the pain of the Great Depression, but they did not cure the underlying economic malaise, which was alive and well as we headed into World War II.