Retail sales plummeted in November and December.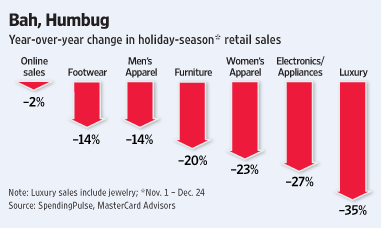 This is exactly what I, for one, expected--every time I went to a mall, the parking lot was full, but there were no lines at checkout.  This isn't only bad news for retailers, but also for credit card issuers, since one guess where the money that wasn't spent at Christmas is probably going.
But it seems to me that this is actually good news for consumers and, in the long run, the economy.  Americans are massively over their heads in debt, and have been consuming beyond their means for a long time.  The data shows them cutting back their spending to more reasonable levels, and cutting back the most in the most discretionary categories.  I feel bad for Hermes and all, but we couldn't keep propping them up forever.

We want to hear what you think about this article. Submit a letter to the editor or write to letters@theatlantic.com.