For the first time in decades, and probably ever, workers retiring from the US labor force will be better-educated on average (according to one measure anyway) than their much younger counterparts. Some 12 per cent of 60-64 year olds have a master's degree or better; less than 10 per cent of 30-34 year olds do. More generally, the decades-long rise in the educational quality of the labor force is coming to an end. This is important, because that rise has been one of the principal forces driving American economic growth.
These findings are from a
new study
by Jacob Funk Kirkegaard of the
Peterson Institute for International Economics
: "The Accelerating Decline in America's High-Skilled Workforce: Implications for Immigration Policy". If you are interested in the prospects for American competitiveness and continued economic leadership, Jacob's study is mandatory reading.
Consider this particularly striking chart (from chapter 1 of the study [
pdf
], page 12), which shows the proportion of the labor force with at least a college degree, by age group, for OECD countries.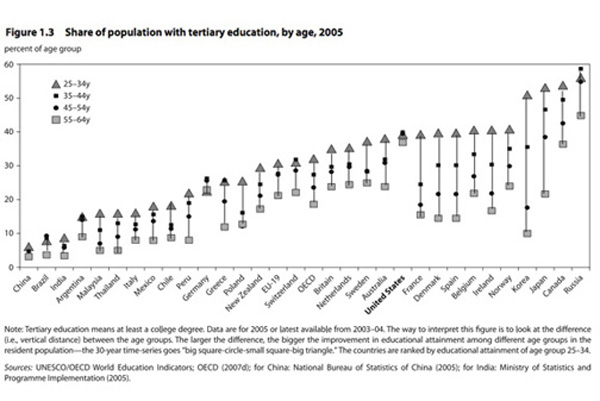 Look first at the squares in the diagram, which represent 55-64 year olds. For this age group, the US lags only Russia (whose competitiveness, Jacob points out, was not a problem thanks to communism). But the US is exceptional in the diagram (Germany is the only other instance) in that its younger cohorts, on this measure, are no better educated. In most other countries, the proportion of 25-34 year olds with at least a college degree has soared. (More than half of South Koreans, Japanese and Canadians in this age group have a college degree or better.) As a result, in that cohort, the US is not 2nd, but 11th. At first sight, anyway, it is hard to see how US leadership in per capita incomes can be sustained in the face of this trend.
Jacob cites this and other data as urgent grounds for liberalizing immigration of highly educated workers (a cause to which I would be very sympathetic, I admit, even if it were not for the good of the country, since I am one such immigrant). The point is, the US devotes a lot of effort to keeping such workers out, while other countries try just as hard to attract them. I'll come back shortly in another post to what I think of Jacob's specific recommendations, but for the moment I just wanted to draw your attention to the study--and to that disconcerting chart.