Masha Gessen Resigns in Protest From PEN America Board
What happens when free-speech absolutists flinch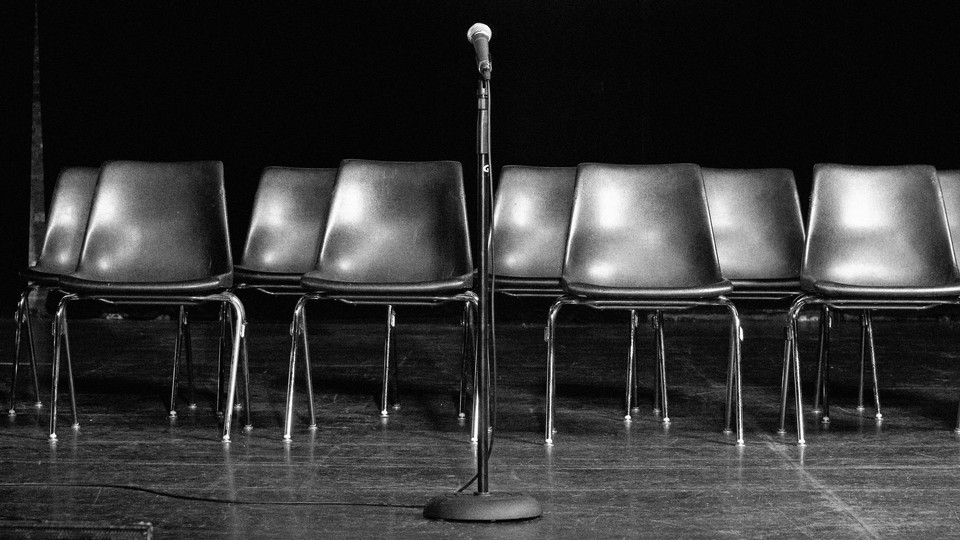 Updated on May 16, 2023, at 5:31 p.m. ET
Since the earliest days of the war in Ukraine, much of the Western world has become squeamish about Russian art. Tchaikovsky would not be played. Russian literature was kept high on the shelf. Moscow's famous Bolshoi Ballet was disinvited from touring abroad.
Such boycotts have only increased in intensity, and in ways that demonstrate how wartime assaults on freedom can ripple far outside the conflict zone—where the sound of war is not that of bombs detonating but of piercing silence. Now the impulse to censor anyone Russian has arrived in the United States, at a venue that is designed to—of all things—champion and promote freedom of speech and expression: PEN America's annual World Voices festival. It has also led, quite precipitously, to the writer Masha Gessen's decision to resign as the vice president of PEN's board of directors.
This past Saturday, as part of the festival, Gessen was set to moderate a panel showcasing writers in exile, two of them, like Gessen, Russian-born authors who had left their country in disgust. But a day before the event, ticket holders received an email saying that because of "unforeseen circumstances" the panel had been canceled. Their money would be refunded. No other explanation was offered and any trace of the event disappeared from PEN's program online.
A small delegation of Ukrainian writers, who participated in a panel planned for the same day as the canceled Gessen event, had declared they could not attend a festival that included Russians. Because two of the writers, Artem Chapeye and Artem Chekh, are active-duty soldiers in the Ukrainian army, they argued that there were legal and ethical restrictions against their participation. Chapeye, a writer whose short story "The Ukraine" was recently published in The New Yorker, texted with me from a bus on his way back to Ukraine. He didn't see himself as having boycotted the Russians. It was simply that their presence was incompatible with his. "The Russian participants decided to cancel their event themselves because we as active soldiers were not able to participate under the same umbrella," he wrote.
Chapeye said he couldn't make distinctions between "good" Russians and "bad" Russians in this case. "Until the war ends," he wrote to me, "a soldier can not be seen with the 'good Russians.'"
I spoke with Suzanne Nossel, the CEO of PEN, who described the events of recent days as a "tough situation," in which the Ukrainians presented themselves as being "imperiled" if they took part. Nossel told me she'd offered to have Gessen's event take place under different auspices, not the World Voices festival, though at the same venue and at the same time. But in the end, as she put it, "that was not an option."
To Gessen, it was abundantly clear that PEN had been "blackmailed" by the Ukrainians. And while Gessen empathized with the Ukrainians' position and their cause, the proposed "rebranding" of the event seemed absurd. "I felt like I was being asked to tell these people that because they're Russians they can't sit at the big table; they have to sit at the little table off to the side," Gessen told me. "Which felt distasteful."
The organization, Gessen said, had already tried to anticipate certain sensitivities. The notion, for example, of doing any kind of Russian-Ukrainian dialogue was out of the question. Gessen understood that this would be akin to implying moral equivalency when one side is clearly the aggressor. For this reason, the two events were kept separate. For Ukrainians, who point out that Russia has been trying to extinguish their national identity for centuries, the war has been a chance to assert on an international stage that their voices need to be heard. Gessen was aware of how this urge had been expressed elsewhere in the literary world. Just a few days before, at a literary festival in Estonia, a Ukrainian writer, Olena Huseinova, had conveyed her distress at the presence of a Russian-born poet, writing an open letter suggesting what she would do in her place: "I find myself compelled to confess that were I to embody a Russian poet, my tongue and my language would sink into a weighty stillness, as if lifeless and bereft of motion deep within me. Probably, nowhere else would I belong, except within this silence and void." The Russian poet was put on a plane and sent home from the festival.
Gessen, who uses they/them pronouns, said they could understand Ukrainians acting in this way. After all, the Ukrainians' country had been invaded, hundreds of thousands of their fellow citizens brutally murdered—the desire to be cruel to Russians was perfectly comprehensible. But Gessen expected a different response from PEN.
"It's up to people whose country hasn't been invaded, whose relatives haven't been disappeared, whose houses are not being bombed, to say there are certain things we don't do—we don't silence people," Gessen said. "We're a freedom-of-expression organization. I'm not blaming the Ukrainians for this."
"I can't look my Russian colleagues in the eye," they added. "I can't serve on the board when I feel like this organization did something that it shouldn't do."
It's not the first time that PEN has struggled with the question of how to balance a commitment to freedom of speech with other political pressures. The incident brings to mind a protest in 2015 from a couple dozen writers, including Joyce Carol Oates and Francine Prose, who took issue with PEN's decision to give a free-speech award to Charlie Hebdo. The satirical French magazine had been the target of a terrorist attack that left 12 people dead and 11 more injured. But the dissenting writers didn't think it was right to reward a publication that had caricatured Muslims. "There is a critical difference between staunchly supporting expression that violates the acceptable, and enthusiastically rewarding such expression," read the writers' letter. The suggestion was that free speech should be supported—including Charlie Hebdo's "anarchic expressions of disdain toward organized religion"—just not always so loudly. In the end, PEN stood by its award, presenting it to the surviving Charlie Hebdo editors, who were protected by armed guards.
Gessen said there is a lot of debate internally at PEN about the boundaries of free speech, and does not personally identify as a free-speech absolutist. "We regulate speech in this country all the time," Gessen said. "We could have a much more meaningful discussion if we accepted that we regulate speech and talked about why and how we do it."
The problem in this instance was that the decision to sideline the Russian participants came not as the result of deliberation, but rather in response to an ultimatum delivered by the Ukrainians, one that left no room for debate. In the end, the Russian presence appeared as if it were a stain that had to be quickly covered up. "Even if the panel remained on the website with a canceled stamp on it or something, even that would be less tragic than what happened," Gessen said. "But to just have it vanish? It's almost a literal silencing."
For PEN leadership, the entire situation felt "untenable," Ayad Akhtar, the president of PEN's board, told me. "The decision was made on the basis of certain human considerations," he said. "Had we made the decision on the basis of principle, it would have meant a human cost that we certainly didn't want to pay at this particular moment given what's going on in Ukraine."
But when asked about Gessen's resignation, Akhtar simply sighed. "It's a big loss for us," he said. "A big loss."