America's Most Insidious Myth
It's time to challenge our country's dangerous obsession with self-reliance.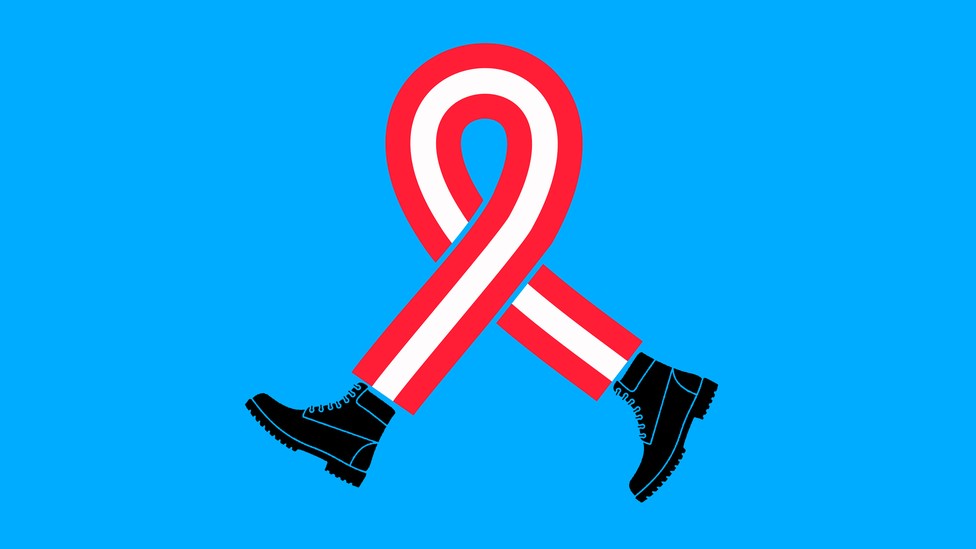 When I was 17, I won $20,000 from the Horatio Alger Association of Distinguished Americans. Named after the prolific 19th-century novelist whose rags-to-riches tales have come to represent the idea of "pulling yourself up by your bootstraps," the scholarship honors youth who have overcome adversity, which, for me, included my parents' mental illnesses, time in foster care, and stints of homelessness.
In April 2010, the Distinguished Americans flew me and the other 103 winners to Washington, D.C., for a mandatory convention. We stayed at a nice hotel and spent an entire day learning table manners. We met Supreme Court Justice Clarence Thomas, who I remember shook hands with the boys and hugged the girls. Before the event's big gala, we posed in rented finery, former Secretary of State Condoleezza Rice at the center of our group photo. The political commentator Lou Dobbs praised the awardees' perseverance in his opening speech. In the words of the Horatio Alger Association, we were "deserving scholars" who illustrated "the limitless possibilities available through the American free-enterprise system." We were proof that anyone could make it.
The Horatio Alger Association is one of the institutions that Alissa Quart, a journalist and the executive director of the Economic Hardship Reporting Project, critiques in her new book, Bootstrapped: Liberating Ourselves From the American Dream. In a wide-ranging 230 pages, Quart challenges our nation's obsession with self-reliance. According to Quart, the fiction that anyone who works hard can have a better life increases inequality and promotes policies that hurt us. Meanwhile, blaming people for their supposedly bad choices is "a kind of nationwide bullying" that the poor internalize. Bootstrapped puts words to beliefs that I struggled to articulate as a teen and that haunted me into adulthood: Both success and failure were up to me alone, I was valuable only when I triumphed, and if I couldn't overcome, I'd be better off dead.
Quart opens by investigating the origins of the phrase "pull yourself up by your bootstraps," and how our culture began to idolize the so-called self-made man. In 1834, the magazine Working Man's Advocate mocked a local inventor by suggesting that a contraption he'd fashioned would allow him to "hand himself over the Cumberland river … by the straps of his boots"—a laughable impossibility, of course, because you can't lift your whole body by your shoes. But the term stuck, and over time became synonymous with self-reliance. Quart then points out a number of cracks in our collective myth of self-sufficiency. While Henry David Thoreau stayed at Walden Pond—for many, the mecca of American individualism—his mother did his laundry. Ayn Rand, patron saint of libertarians, collected Social Security near the end of her life. Even Horatio Alger's novels aren't tales of genuine independence: In most, a wealthy benefactor steps in to sponsor a handsome teenage protagonist. (These stories also take on a darker meaning when you consider Alger's own past: A Harvard Divinity School–trained pastor, he was forced to resign after being accused of molesting two boys.)
The belief that underprivileged teens can study hard, prove their worth, and access higher education thanks to charitable largesse also seems more and more like a fable. Donors disproportionately give to elite schools with massive endowments. Only 1.5 percent of the total sum contributed goes to two-year colleges—despite the fact that state and community colleges have some of the highest upward-mobility rates. Not only do the same universities benefit again and again, often the same students do too. A recent Horatio Alger winner observed to me that a small pool of high-achieving, low-income students seemed to win multiple big awards each year. I had noticed this as a teenager too. A handful of my peers were plucked out by various nonprofit organizations and feted repeatedly. Many of them got into prestigious universities that offered full financial aid, rendering the prizes moot.
I was one of those students: I received a full ride to Harvard. At the Horatio Alger conference, a Distinguished American's wife offered me another grant that meant I didn't need to get a term-time job; I hardly touched the Horatio Alger money. I sat uncomfortably with all the advantages I'd had. Yes, I'd rotated among friends' sofas and slept in my car the previous summer. But I also had a grandmother who'd taken an interest in me, insisting I get straight A's and paying for a parochial elementary school. I'd left foster care because of boarding-school financial aid. For me, as for most of my multi-scholarshipped peers, lucky breaks compounded. Our ascensions were the opposite of self-sufficiency; if anyone had paid attention, they might have studied us to understand what interventions worked—and what held others back.
But for many people who insist that modern America is a meritocracy, the onus is on those who need help to prove that they need it. One of Quart's sharpest points is that administrative burdens force disadvantaged people to repeatedly prove their worthiness. For example, Medicaid requires participants to frequently recertify themselves (a practice that was paused during the pandemic) to receive benefits. In recent years, more than 220,000 children in Tennessee alone lost coverage because of clerical errors. Florida Governor Ron DeSantis has said that the unemployment-insurance system was designed to "put as many kind-of-pointless roadblocks along the way" as possible, so that the jobless gave up. Some of these hurdles—such as some states' Medicaid work requirements, which have been shown to insignificantly affect employment rates—are simply punishment for poverty.
Although Quart primarily criticizes such policy failures, she also shows how widespread the tendency is to overemphasize individual responsibility. For example, she condemns the "dystopian social safety net" that stretches under the abyss of unmet need. Epitomized by GoFundMe fundraising (where people solicit donations from friends, family, and strangers to help cover the cost of necessities like housing, car repairs, and expensive medical procedures), getting help often means "commodifying our suffering"—not dissimilar to students brandishing their trauma for a single semester's tuition at a private college.
Glorifying mettle is common across our culture—the fantasy of self-sufficiency is so pervasive because it feels good, both to witness and to experience. Quart calls out the "hygge" of Little House on the Prairie, which features a pioneer family surviving alone on the frontier, salt pork crackling over their self-started fire. I swelled with pride when my application essay for the scholarship, in which I compared my life to that of the Horatio Alger Award recipient Buzz Aldrin, delivered me into a State Department dining room. Growing up in a society that idolized individual achievement, I never failed to notice, and cling to, moments of seemingly single-handed success.
And when things went wrong, I blamed myself—when I was raped a few months after the conference, when I didn't have a place to stay during school breaks, when I went nearly broke from a mouthful of root canals and fillings after years of sporadic dental care. I'd bought into the intoxicating fiction that I was the master of my fate. When it turned out I wasn't, the failure felt personal.
By the time I graduated from college, my shame that I wasn't a smiling overcomer became unbearable. The only way I could let it go was to recognize the dark side of our fixation with independence—a message Quart arrives at far more directly than I could. She proposes commonsense changes to improve the social safety net, most of which are extensions of COVID-era policies: expanding the child tax credit, making recertification for Medicaid less onerous, and reducing administrative hurdles to seeking help.
Just as important, Bootstrapped urges readers to rethink their narratives of accomplishment. Quart encourages us to stop shaming others, and ourselves, for needing assistance and to acknowledge the ways we are all interdependent. When I was a teenager, no amount of praise for my tenacity could have replaced the help I received: encouragement from teachers who believed in me, rides from friends' parents, a few nights in a shelter, and, yes, the financial aid that let me graduate without debt—a modern miracle. There's a clear irony to a charity that rewards "self-sufficiency," even as it attests to our deep impulse to help others.
At the Horatio Alger gala, a falconer released a bald eagle, which soared through the auditorium to the sound of the national anthem. The audience lit up in rapturous applause. Watching the bird, I assumed that it represented the individual triumphs of each of the scholarship's winners. But maybe I should have been looking at the crowd, drawn together in our wonder, none of us so solitary after all.
---
​When you buy a book using a link on this page, we receive a commission. Thank you for supporting The Atlantic.