A Civil War Over Semicolons
The biographer Robert Caro and his editor, Robert Gottlieb, have been arguing with each other for 50 years.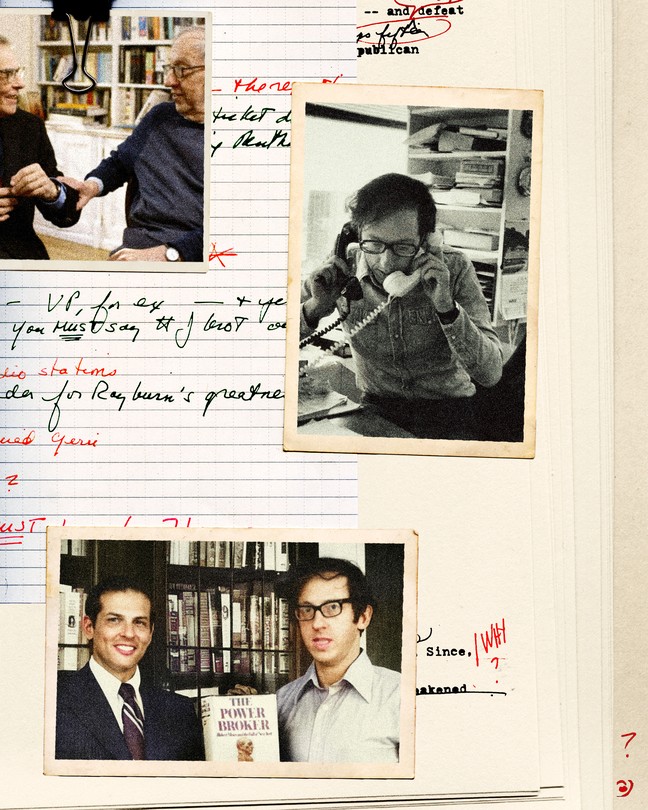 The partnership of Robert Caro and Robert Gottlieb is beautifully anachronistic. As writer and editor, respectively, they have together produced 4,888 pages over the course of 50 years, including the multivolume, still unfinished saga that is Caro's biography of Lyndon B. Johnson. A lasting collaboration of this sort is impossible to imagine in today's publishing world of constant churn. Then there's their method: Caro puts on a dark suit every day, writes his drafts out in longhand, and copies them onto carbon paper using his Smith Corona typewriter, after which Gottlieb marks them up with a pencil—like a couple of cobblers still making shoes with an awl. Whatever deal Caro got from Gottlieb and Knopf in the 1970s, it has allowed him to work monastically on this biography project seemingly without any other source of income. As Caro's longtime agent, Lynn Nesbit, says of the arrangement in Turn Every Page, a new documentary about Caro and Gottlieb, "I doubt that it could ever happen again."
But there's something else about the relationship that gives a glimpse into another era: The two don't seem to like each other all that much.
They bicker all the time, about every comma, period, and semicolon. Actually, don't even get them started on semicolons. Gottlieb refers to a "civil war" that took place over the punctuation mark's usage. The flintiness about every little thing is part of their shtick. "He does the work. I do the cleanup. Then we fight," Gottlieb says in the film.
The documentary is the creation of Gottlieb's daughter, Lizzie, who was always curious about this "mysterious relationship." Although she grew up in a house full of writers, she didn't meet Caro until her father's 80th birthday—he and Caro don't hang out. Caro was reluctant at first about taking part in the movie and did so only on the condition that he never be interviewed in the same room as Gottlieb. Told this, Gottlieb wolfishly smiles, saying, "Who could blame him?" Walter Matthau and Jack Lemmon have nothing on these guys.
Most of the film is propelled by the actuarial problem of whether Caro, 87, and Gottlieb, 91, will live long enough to finish the fifth and final volume of the Johnson biography. Their curmudgeonly attitude toward each other is presented as a quirk of character. Two old men, perfectionists, set in their ways.
But the intense friction also defines their relationship. One of their first jobs, back in the 1970s, was cutting The Power Broker, Caro's biography of Robert Moses, from an insane 1,050,000 words to a still pretty insane 700,000. They both describe the process as a grueling year-long combat with lots of stalking out of rooms. "Looking back at my life, I don't think anything was harder than that," Caro says. There would be other battles, like the one over a long section on the history of grass in Texas Hill Country, in the first volume of the Johnson biography, that Gottlieb wanted to cut—"a tremendous battle, an angry, angry battle" is how Caro, who ended up on the losing side, describes it. Gottlieb just thought there were too many words about grass: "It was not that I was trying to tear his bleeding heart out of his chest or out of his book." Other skirmishes have taken place over the use of specific words; the verb looms is a sore point.
Many of these fights seem to boil down to a question of how much to trust the reader. The insecure writer—a.k.a. every writer—worries that their ideas won't come across clearly, so they overcompensate. The editor's job is to push back. As Gottlieb puts it, "Bob always wants to make sure that the reader has really got it. And I have maybe more faith in the reader, because that's what I am, a reader. I got it."
Gottlieb is a legend, an editor who has worked with, among others, Toni Morrison and Joseph Heller (if not for Gottlieb's intervention, he tells us, Catch-22 would have been Catch-18). Where Caro is all crystallized focus, sitting down to a day in the sterile Johnson archive with a big smile on his face, Gottlieb is rangy and eccentric, showing off his enormous collection of plastic women's handbags. The editor is also the more voluble and philosophical of the two. His work, Gottlieb says, is fundamentally "a service job," but that doesn't mean he is "ego-less." On the contrary: "You need a strong ego, because there has to be an equivalence of strength."
What feels most unique about seeing these two circle each other like aging boxers is the idea that a book can be born from a power struggle. We don't really think about culture like this anymore. Maybe a combative collaboration of this sort simply can't exist in the same way it once did, in the age of super-editors such as Gordon Lish—and in most cases, maybe that's for the best. But the Gottlieb-Caro dynamic feeling like such an artifact doesn't just have to do with everyone being nicer now. The publishing industry has changed in fundamental ways, becoming more corporate and much less willing to take risks on difficult writers and difficult books. For many editors (though not all), the job of competitively acquiring new titles takes up more and more attention, leaving less room for actual editing. Some of this work happens before a book is even sold—by agents fine-tuning a manuscript as they prepare to put it on the market, or by independent editors whom authors themselves have to hire. It's safe to say that the days of an editor taking a year to haggle over every comma with a writer so they can cut a book down by 350,000 words are over.
The fighting is not the point, of course. Underneath the simmering antagonism, what comes across is how much Gottlieb and Caro care. Behind the incessant back-and-forth is an obsessiveness about getting it right. Here is Gottlieb on Caro, though it could be vice versa: "The great thing about Bob is also the maddening thing about Bob. Everything is of total importance—the first chapter of the book and a semicolon. They're of equal importance, and he can be equally firm, strong, emotional, irrational about any of them. I'm like that too; it takes one to know one."
My only problem with Turn Every Page is its ending. Lizzie Gottlieb finally gets her shot: The Bobs agree to let her into the room to film them as they sit over the manuscript pages together, each with a pencil in hand (though only after a hilarious, telling few moments when they can't find an actual pencil in the Knopf offices). The scene is captured without audio—because it's "private," insists Caro—and is meant to be sweet, two pairs of liver-spotted hands working together to the strains of Chet Baker's "Do It the Hard Way." But it doesn't feel right. I would have preferred to watch them arm-wrestling.