When Truman Capote's Lies Caught Up With Him
The author of In Cold Blood played fast and loose with the facts.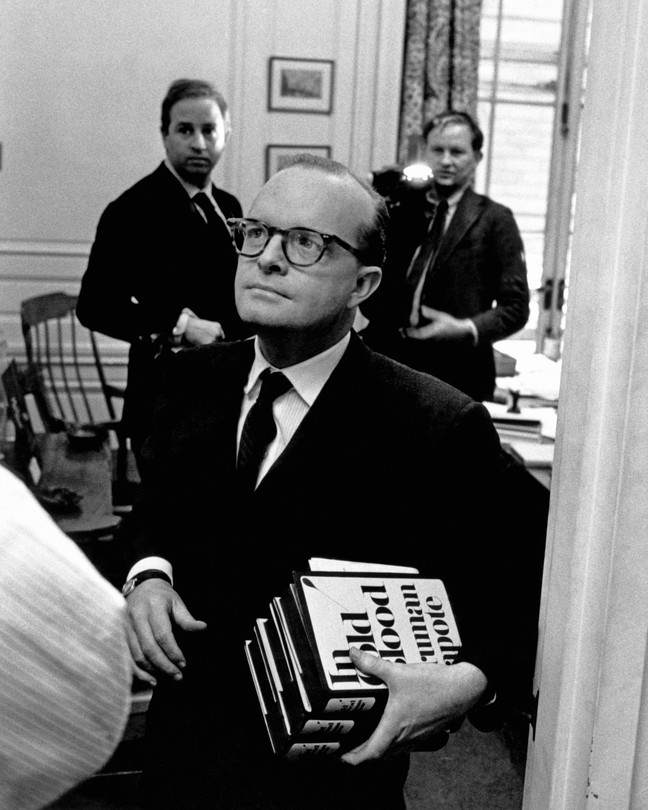 On October 21, 1970, Truman Capote went to jail. Considering he'd spent much of his life fascinated by crime, it nevertheless came as a shock, to him and others, when he was sentenced to three days on a contempt-of-court charge. "I've been in thirty or forty jails and prisons, but this is the first time I'll ever be in one as a prisoner," Capote told reporters at the time, his bravado a substitute, according to his biographer Gerald Clarke, for the "stark terror" he was actually feeling.
Every true-crime writer has to contend with Capote. In Cold Blood, his rapturously received "nonfiction novel" (as Capote termed it) about a Kansas family's homicide in 1959, is embedded in the DNA of every book in the genre. As Justin St. Germain wrote in his critical reexamination, "Capote spiked a vein, and out came a stream of imitators, a whole bloody genre, one of the most popular forms of American nonfiction: true crime." (I'm no exception, as Capote ended up a minor character in my own recent nonfiction book, Scoundrel.)
The sheer glut of recently released books and films about Capote—the past few years alone brought forth Capote's Women, by Laurence Leamer; the documentary film The Capote Tapes; and, at the end of last year, Roseanne Montillo's Deliberate Cruelty: Truman Capote, the Millionaire's Wife, and the Murder of the Century—seem less interested in Capote's relationship to true crime than in his obsessive social striving. The two parts of his identity were not completely separate—the smash success of his Black and White Ball at the Plaza Hotel in November 1966 was built, after all, on the back of In Cold Blood's runaway popularity. But surely there must be something new to discover about Capote's relationship to criminality? If so, uncovering how he came to spend time (however brief) among the incarcerated may yield some clues.
When he went to jail in 1970, Capote wasn't far removed from his heights as one of America's most celebrated writers. He had also, improbably, become a go-to pundit on criminal-justice matters, opining about criminal cases on popular programs such as The Tonight Show and Firing Line, and spending years interviewing death-row prisoners for various projects.
Perhaps it's no accident that Capote's career and personal free fall began in earnest after his time in jail, a surprisingly little-reported episode that raises larger questions about his own attraction to true crime, and the ethical compromises involved in doing this sort of writing. Understanding how and why this happened requires a look back at Capote's troubled youth, which foreshadowed an adulthood marked by secrets and lies.
Capote's biological father, Arch Persons, was a con man whose wife, Lillie Mae, summarily abandoned him when she realized he couldn't deliver on the financial promises he'd made her. Reinventing herself as Nina, she took up with her second husband, Joe Capote, a Cuban émigré who had a taste for the finer things, even if it meant spending more money than he made. Nina and Joe lived an extravagant lifestyle in New York City and Greenwich, Connecticut. But according to Clarke's biography as well as George Plimpton's 1997 oral history, its demands led to Joe's arrest for embezzlement, a guilty plea, and a year-long stint in Sing Sing Correctional Facility in 1955. By that time, Nina was dead of a Seconal overdose.
Capote's relationship with his mother was ambivalent at best, tortured at worst—he often described his earliest memory, from around the age of 2, as being abandoned in a hotel room. Even after Nina and Joe married, young Truman spent the bulk of his childhood in Monroeville, Alabama, living with his cousins. There, he befriended not only Harper Lee—who would serve as his co-reporter and amanuensis for what would become In Cold Blood—but also Martha Seabrook, an older girl who'd landed in Monroeville from Milton, Florida, and who lived across the street.
Sometime during the summer of 1934 or 1935, either Capote or Seabrook got the notion to run away to Evergreen, Alabama, where Seabrook's uncle owned a hotel. Their journey lasted a single night before they had to return to Monroeville. That fall, Capote went back to New York to join his mother and stepfather, and Seabrook's family moved away. They never saw each other again.
Years later, Capote learned what had happened to Seabrook. As Martha Beck, she took up with Raymond Fernandez, and their poisonous alchemy led to multiple murders, mostly of women who answered "lonely hearts" ads. Both Fernandez and Beck were executed at Sing Sing in 1951. "I didn't even realize it was the same person until years later all my relatives in that town said: 'Oh, that's the girl who was here that summer. She's the one you ran away with,'" Capote told an interviewer.
Eight years after Beck's execution and four years after his stepfather's imprisonment in the same correctional institution, Capote infamously alighted on a wire story about the Clutter family's homicide in Holcomb, Kansas. He would tell more grandiose and authoritative versions of In Cold Blood's origin story. He minimized Lee's pivotal role as a researcher and fellow journalist on the project; obfuscated the truth about his relationship with Perry Smith, one of the murderers; grew petulant about the lack of resolution when Smith and Dick Hickok's execution dates kept getting postponed; and fabricated incidents when it suited his narrative, including the book's final scene (in which the lead investigator visits the Clutter family's graves with the daughter's best friend).
Chronicling and identifying with the ultimate transgressors—murderers—became Capote's career calling card. Doing so was a way of empathizing with society's underclass, yes, but it also gave Capote the opportunity to bend stories to his will, because readers would be more inclined to trust his version over the murderers'. Playing fast and loose with the truth might have been accepted at the time in literary and high-society circles, but when Capote was faced with the stringencies of the legal system and the consequences of actual jail time, his storytelling instincts would prove to be his undoing.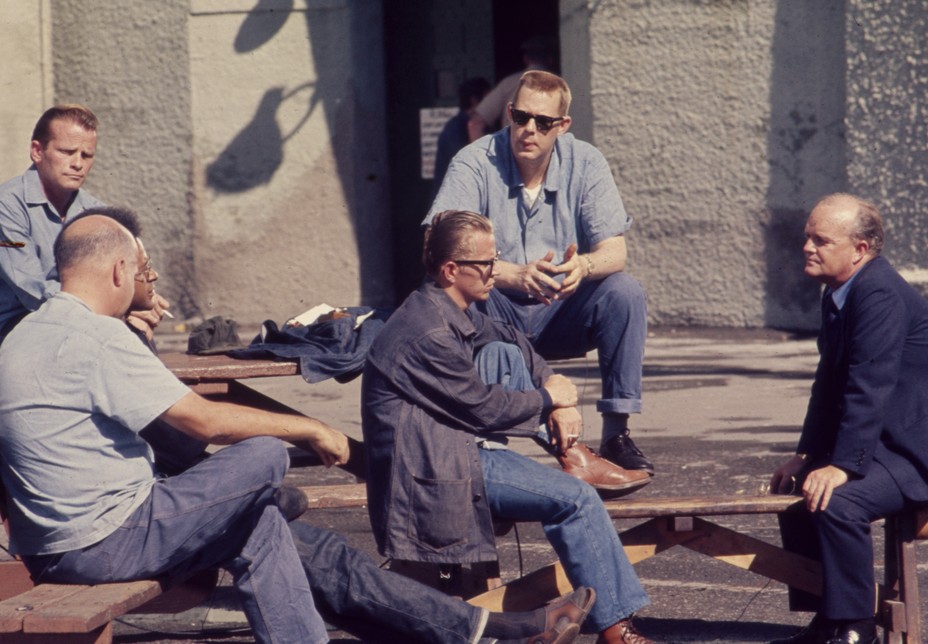 From 1967 to 1968, Capote interviewed more than two dozen prisoners housed in three different death-row facilities: Oregon and Colorado State Penitentiaries and San Quentin State Prison. He did so at the behest of ABC, which had commissioned Capote to create and host a documentary that would, in the executives' minds, be a natural follow-up to In Cold Blood.
Most of the murderers who would appear on camera in Death Row, U.S.A. (and be quoted in print in the accompanying October 1968 Esquire story) were incarcerated at San Quentin, which Capote visited on several occasions. There, he met and spoke with Joseph Morse. Morse was originally sentenced to death for the murders of his mother and disabled younger sister in 1962, but his conviction was overturned on a technicality. While awaiting a new trial, Morse killed a fellow prisoner after a dispute over cigarettes, resulting in yet another death sentence that would eventually be overturned (both times, Morse was resentenced to life imprisonment).
"My problem is I'm a case afflicted with severe sociopathy. I can't change because I can't benefit by experience. Experience teaches me nothing," Capote quoted Morse as saying in the Esquire article. But it was Morse's next series of quoted comments that landed Capote in hot water in the fall of 1970: "If I were to get out of here tomorrow, I'd probably kill again. Do it without any thought of the death penalty. Even though I've already spent five years on Death Row and know full well what it means."
The Orange County prosecutor tasked with resentencing Morse to death wanted Capote to testify about these comments. Capote had no intention of doing so, "believing, like any other honorable reporter, that interviews are confidential," according to Clarke, his biographer. Capote fled to New York as his lawyers tried and failed to work things out. The judge, exasperated by all the goings-on, finally had enough and gave Capote his jail sentence.
Back at his bungalow in Bel-Air, Capote took several pills, retreated to bed, and ordered one of his lawyers, Alan Schwartz, to "call Ronald Reagan!" But even the then-governor of California couldn't help. Capote went to jail, though his sentence would be reduced to a mere 18 hours because of ill health. Schwartz told Clarke that Capote, after his release, seemed "as if he had been raped, rolled, and beaten up." (Capote, meanwhile, never described the ordeal in any detail beyond saying "It was very uncomfortable in there" and "I don't advise anybody to go there to write a book.")
Perhaps there would have been greater dignity in this episode if Death Row, U.S.A. had had some impact. But the documentary for which Capote had interviewed Morse never aired. By 1968, the ABC executive (a friend of Capote's) who had green-lit the project had left the network, and the new man in charge judged it "too grim" and refused to broadcast it. (Capote, furious, later retorted, "Well, what were you expecting, Rebecca of Sunnybrook Farm?")
Capote tried to brush off the failed documentary as proof that he should stick to books. Still, it had to be devastating to see a project begun with the best of intentions killed before it could even reach an audience. Save for a single theatrical screening at a theater in Manhattan—an event organized and funded by Capote himself—Death Row, U.S.A. has never been shown.
Capote made several more attempts to recapture the In Cold Blood magic, including Truman Capote Behind Prison Walls in 1972, another ill-fated documentary for ABC about the life of the incarcerated (although this program actually aired, the critical reception and ratings were poor). Then came "Handcarved Coffins," the centerpiece of Capote's 1980 collection, Music for Chameleons; the story purported to chronicle a number of unsolved murders that bordered on the bizarre. Because Capote still had lingering credibility as a criminal-justice expert, readers and critics took the story at face value, believing it to be a true and accurate account.
Yet the investigating "homespun" detective, Clarke wrote, "was not a real person, but a composite of several lawmen [Capote] had known." And a 1992 Sunday Times story, published eight years after Capote's death, offered even more proof that "Handcarved Coffins" was pure fiction. Once again, Capote had chosen story over the truth. And if one takes the word of Morse, the murderer whose published comments legally imperiled the author, making things up was also the reason Capote went to jail in 1970.
Morse wrote and edited for the San Quentin News during his long incarceration there, several stints over nearly 30 years. (He died in 2009 in a different correctional facility.) When the Behind Prison Walls documentary aired in December 1972, the editor of the satirical anti-establishment magazine The Realist wrote to Morse soliciting his opinion of the program.
Morse was withering in his assessment of what he called "this fiasco," a distortion of life at San Quentin. ("If asked to 'review' this film, I would say it was one of the best rip-offs I have seen in quite a while," he said.) Morse also told his version of what had happened with the contempt-of-court case. During Morse's conversation with Capote back in 1968, the writer had asked him, "If you were to get out right now do you think you could kill again?"
Morse took his time answering. He knew that if he got out, "I would revert to being a smack freak—which would engender a need for money," which might then necessitate a need to murder somebody. When Morse finally replied, he reported that he'd said "Probably" without elaborating. But his "terse, one-word reply" had been embellished in Capote's magazine article.
This put Capote in a bind. "He could testify that I did make the statement, but then he would have to try to explain why the transcription of the interview contained no such quote," Morse wrote. "The transcription would have really fucked him, and he had only one alternative. He would have to tell the truth and admit that my answer was, simply, 'Probably.' This, too, would have fucked him because he would then have to admit that he lied to Esquire (and the public). He was fucked either way. As a result, he split and ignored the subpoena."
There's no way to know if Capote ever saw Morse's comments in The Realist; he never disputed or confirmed them. If Morse was correct, testifying in open court would have put Capote's credibility on the line at a time when he had maximum goodwill and authority. Not doing so, however, set Capote up to make poor decision after poor decision, and the blurred lines between fiction and reality destroyed friendships, wrecked his writing and health, and ruined his credibility after all.
The costs of Capote's repeated inability to contend with factuality weren't felt only by him; they also permeated throughout the genre he'd redefined almost single-handedly with In Cold Blood. As the crime journalist Jack Olsen once said, "That book did two things. It made true crime an interesting, successful, commercial genre, but it also began the process of tearing it down." The past few years in particular have made us question whose crime stories get credence and attention. Infusing the genre with greater meaning—and possibly even rectifying some of these past inequalities—might mean coming to terms with Capote's messy, convoluted, and fabulist relationship with the darkest parts of life and crime.