The Books Briefing: Meghan Markle's Story Is Devastating and Familiar
The many people the monarchy has hurt: Your weekly guide to the best in books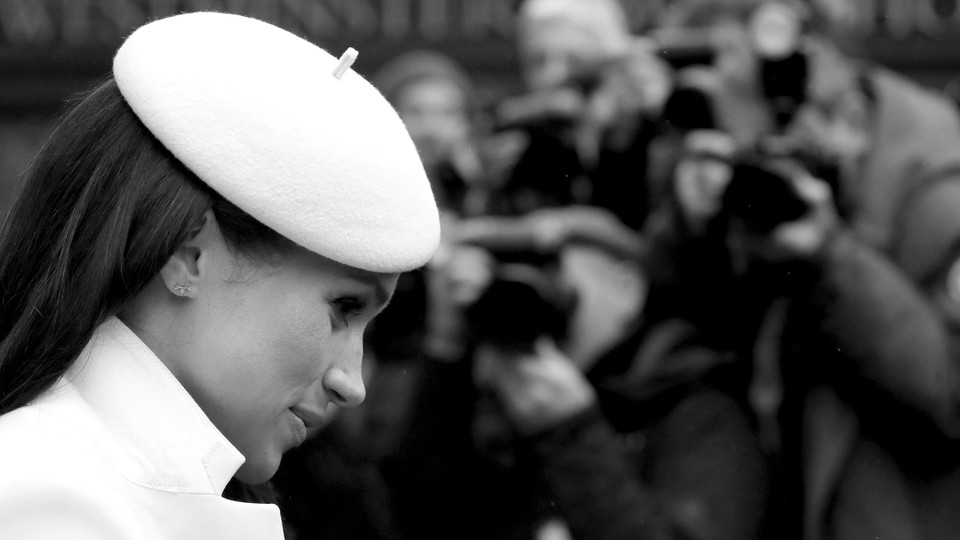 In an interview with Oprah on Sunday, Meghan Markle and Prince Harry described the experiences that led them to leave their official roles in the British Royal Family. Specifically, Markle said, a barrage of attacks from the British press, racist attitudes within the Royal Family, a lack of support, and other factors drove her to have suicidal thoughts. (The Palace has since released a statement sharing that the family was saddened by the couple's revelations and would address them privately.) The interview was devastating and, for many, familiar.
Many modern members of the Royal Family have struggled with media scrutiny, including the Queen's sister, whose life the author Craig Brown explores in the biography 99 Glimpses of Princess Margaret. But Markle's experience may be most closely mirrored by that of Princess Diana, who died in a car crash while being chased by paparazzi. Many books, movies, and TV shows track her life, including The Crown. The most recent season takes aim at the monarchy and portrays the Queen as someone whose coldness and stubborn devotion to tradition contributed to Diana's experience. Diana: Her True Story, by the journalist Andrew Morton, focuses more on Diana herself, revealing the princess's struggles with mental health.
Still, certain elements of the recent attacks are unique to Markle. In addition to the media vitriol and lack of support from the Royal Family, Markle has also had to grapple with the United Kingdom's racism, which the author Afua Hirsch explores in Brit(ish), a book blending memoir and history. The monarchy in particular is steeped in racism and colonialism. As K. A. Dilday observed in an article for The Atlantic about marrying into the British aristocracy, she experienced racism in the United States as well, but found the aristocratic embrace of hierarchy and birthright uniquely disturbing.
​Every Friday in the Books Briefing, we thread together Atlantic stories on books that share similar ideas. Know other book lovers who might like this guide? Forward them this email.

When you buy a book using a link in this newsletter, we receive a commission. Thank you for supporting The Atlantic.
---
What We're Reading