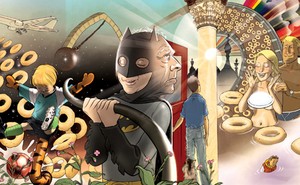 Telling Tails
The problem with unsuccessful stories is usually simple: they are boring, a consequence of the failure of imagination. To vividly imagine and to vividly render extraordinary human events, or sequences of events, is the hard-lifting, heavy-duty, day-by-day, unending labor of a fiction writer.
The People We Marry
Magic was his life. His marriage was a trick he did not want to explain 
The Nuclear Age
"Nobody wanted to pray, but each of us blessed the bomb without guilt, and Sarah chanted, 'Fission, fusion, critical mass'"