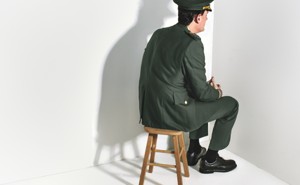 General Failure
Looking back on the troubled wars in Afghanistan and Iraq, many observers are content to lay blame on the Bush administration. But inept leadership by American generals was also responsible for the failure of those wars. A culture of mediocrity has taken hold within the Army's leadership rank—if it is not uprooted, the country's next war is unlikely to unfold any better than the last two.
The Wild New West
Daredevils, coots, and cowboy poets love Moab, Utah -- and so does at least one all-American family
The Widening Gap Between Military and Society
U.S. military personnel of all ranks are feeling increasingly alienated from their own country, and are becoming both more conservative and more politically active than ever before. Do they see America clearly?
The Great Society in Camouflage
The culture of today's Army derives from a uniqueblend of liberal and conservative philosophies. Willit survive peacetime transformations intact?