Edward Snowden's Leaks May Actually Strengthen U.S.-China Relations
With the issue of cyber-snooping out in the open, Beijing and Washington are now on a more equal footing.
May You Live in Interesting Times: China's Leader-Legitimacy Problem
For the first time in its history, the all-powerful Communist Party has no clear way to guarantee a smooth power transfer.
Why Chen Guangcheng's Arrival in the U.S. Is Also a Victory for China
The country's leadership, long sensitive to the embarrassment of releasing dissidents, is showing more confidence and flexibility.
Fang Lizhi: China's Andrei Sakharov
The speeches of the astrophysicist Fang Lizhi have galvanized students and given political discourse in China a new depth of field, and although he has been expelled from the Chinese Communist Party his influence is undiminished
When a Rising China and a Humbled West Meet, Who Bows Deeper?
It's a centuries-old question that's taking on new significance as the two ends of the world come together, on slightly different terms.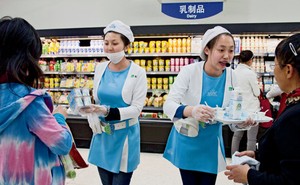 How Walmart Is Changing China
The world's biggest corporation and the world's most populous nation have launched a bold experiment in consumer behavior and environmental stewardship: to set green standards for 20,000 suppliers making several hundred thousand items sold to billions of shoppers worldwide. Will that effort take hold, or will it unravel in a recriminatory tangle of misguided expectations and broken promises?
Once Again, Long Live Chairman Mao
A recent return to deifying Mao is less straightforward than it seems
Cage for the Innocents
The war forces the South Vietnamese out of their villages. Are they refugees? Or prisoners? The Americans are not more certain than the Vietnamese whose Kafkaesque fate they administer. Mr. Schell, twenty-seven, recently returned from his fourth trip to Vietnam since 1962. A research fellow at Berkeley's Center for Chinese Studies, he is with Professor Franz Schurmann the co-editor of a three-volume work, THE CHINA READER.