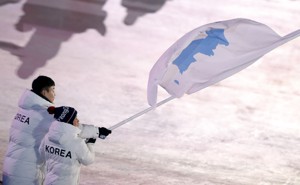 Korea's Divided Families Are Hoping for a Reunion
The Korean War split them apart. Could the Winter Olympics be an opportunity to bring them back together?
The Korean Unification Flag Isn't as Unifying as It Seems
"How could we embrace North Korea as one of our own?"
The Precarious Politics of the Joint Korean Hockey Team
It's an unprecedented diplomatic breakthrough. But how can two rival nations build teamwork?